UN Security Council To Meet Over Nuclear Weapons Deployment In Belarus
15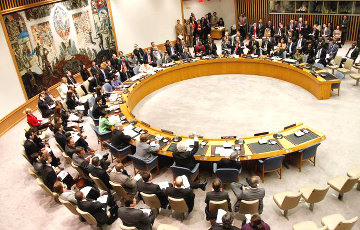 The date and time have been set.
The UN Security Council will meet for a meeting on March 31 over the threat of Russian President Vladimir Putin to deploy nuclear weapons on the territory of Belarus, reports Ukrinform.
The agenda item is worded as a "threat to international peace and security".
The meeting will begin at 18:00 Minsk time. A Ukrainian delegation is expected to attend.
It is noted that Friday is the last day of the Mozambican presidency of the Council. On April 1, the presidency will be taken over by the Russian Federation, which has illegally taken over from the USSR.
On March 25, Russian President Vladimir Putin confirmed the transfer of the Iskander missile defence systems and ten aircraft converted to nuclear warheads to Belarus. Also, he said, the construction of a storage facility for nuclear weapons in Belarus would be completed on July 1.