Kadyrov's Armored Column Crashes On Crimean Bridge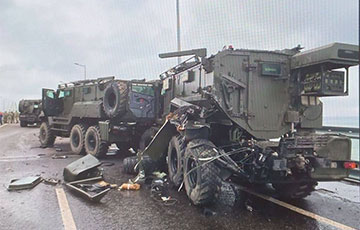 The occupants were shooting a video for TikTok.
Fighters of Chechen ruler Ramzan Kadyrov had a massive accident on the Crimean bridge on March 27.
Oddly enough, the accident occurred because Kadyrov fighters were filming TikTok, Telegram channel Volya writes.
"Army sources say five armored cars of the regiment Akhmat raced, the drivers wanted to shoot a video. As a result, four armored cars collided. Two servicemen were wounded. The traffic on the bridge was blocked for an hour and a half. We are waiting for one of the racers to post a video," the report says.