Russia To Rehearse Nuclear War Start Second Time Since Beginning Of Year
14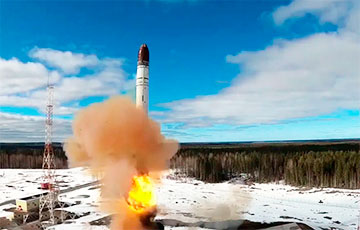 The exercises will cover three regions of Siberia.
Russian authorities continue to display nuclear weapons amid rising tensions with the West and a 13-month-long war with Ukraine.
On Wednesday, March 29, the Russian Defense Ministry announced the start of command and staff exercises using Yars missile systems, a key element of the Russian nuclear triad.
Mobile installations armed with Topol-M ballistic missiles, which are capable of hitting targets at a distance of up to 11,000 kilometers, "have entered combat patrol routes in field positions," said Yevgeny Kelgaev, commander of the Strategic Missile Forces Regiment.
According to the Ministry of Defense of the Russian Federation, the exercises will cover three regions of Siberia, 300 pieces of equipment and more than 3 thousand military personnel will be involved in them.
The Novosibirsk missile formation, equipped with Yars, will take part in the maneuvers. "Strategic missile men will carry out a set of measures to camouflage and counteract modern aerial reconnaissance means in cooperation with formations and units of the Central Military District and the Aerospace Forces," Interfax quotes the press service of the Russian Defense Ministry.
The Yars exercises are the second since the beginning of 2023. In January, complexes deployed in the Tver region went on combat patrols. During the exercise, they conducted a 100 km march, and also completed the tasks of "dispersing units", changing field positions and camouflage.
Shortly after the invasion of Ukraine began, President Vladimir Putin announced the transfer of Russian strategic forces to a "special regime" of combat duty, and also threatened the consequences of countries that dare to stand in his way.
In December, Putin said that Moscow could abandon the Soviet-era concept of a retaliatory nuclear strike and include in its nuclear doctrine the ability to deliver a preemptive strike to disarm the enemy.
Two months later, Putin announced the suspension of Russia's participation in the strategic offensive arms treaty with the United States, and a month later he announced the deployment of tactical nuclear weapons on the territory of Belarus.
The threat of a nuclear catastrophe is growing due to the actions of the West, which is increasing its involvement in the conflict in Ukraine, Secretary of the Security Council of the Russian Federation Nikolai Patrushev said on Wednesday.
"The provocative behavior of the West in the context of the crisis in Ukraine can lead to catastrophic consequences. It contradicts the essence of the joint statement of the leaders of the "nuclear five" countries of January 3, 2022, in which the postulate of the inadmissibility of nuclear war was confirmed," Patrushev said.