Russian troops still in Belarus
31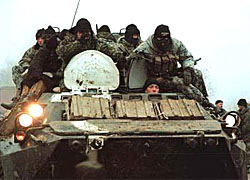 Several thousands of Russian solders and officers, who took part in Zapad-2009 manoeuvres in Belarus, haven't returned to Russia.
According to the Ministry of Defence of Belarus, 6000 Russian soldiers were involved in the military exercise, Radio Svaboda reports.
The Ministry of Defence of Belarus informed that the Russian troops, in particular, motor-rifle, tank, and artillery troops, remain in Belarus. "They are being withdrawn now," head of the ministry press service colonel Vyachaslau Ramenchyk said.
"The participants of the training are leaving the country according to the schedule," Ramenchyk said. "The airborne echelon has already been withdrawn, the land forces are entraining ad leaving the country. I can't say where their home stations are without Russia's consent. They are going to the regional grouping garrisons."
According to Ramenchyk, the ceremony of parting with the Russian troops is as solemn as the welcoming one: representatives of the local authorities give flowers to soldiers, say thanks and words of friendship. The colonel refused to say the stations of entraining the Russian troops without consent of Russia.
According to official information of the Belarusian procuracy agencies, Zapad-2009 training was carried out without human losses and serious incidents. Col. Ramenchyk added that the information was true only about the Belarusian troops.
Protest pickets against brining Russian troops in Belarus were held in Minsk and other Belarusian cities before the military exercise. More than 20 NGO activists were beaten by riot militia, detained and fined. Zmitser Bandarenka, a coordinator of the civil campaign "European Belarus", was among those who came to October Square. He thinks a week's delay of withdrawal of Russian soldier is not an occasion.
"Lukashenka and Medvedev agreed to hold such manoeuvres every other year," Zmitser Bandarenka reminded. "It means that permanent Russian military units and equipment will stay here, because people can't shuttle endlessly from east to west. In fact, it means the creeping occupation. Lukashenka probably found himself in a difficult economic situation, so he has made such concessions."
We remind that Zapad-2009 joint military exercise started in Belarus on September 18 and ended on September 29. Dmitry Medvedev came to watch the last stage of the manoeuvres.