"Liberalization" and "dialog" on St Valentine's Day in Minsk (Photo)
130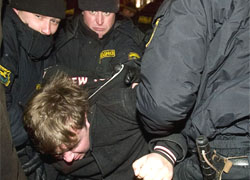 On February 14, a rally of the opposition youth, dedicated to St Valentine's Day, was brutally dispersed in Minsk. Tens of riot militiamen armed with truncheons were thrown against the participants of the peaceful rally.
The "Young Front" began the rally "Day of Love" on Yakub Kolas square on February 14. About 100 youth activists gathered on the square. They unfurled national and EU flags, and raised white-red-white balloons. They also unfurled two banners "Young Front" and "Rally of Love".
Militiamen in mufti encircled a group of the youth, taking video of the events. A car with loud-speakers was standing nearby, announcing the rally was banned.
The demonstrators showed a performance about the origin of St Valentine's Day. After that the activists, with flags and unfurled banners, moved along the sidewalk of independence Avenue.
Tens of riot militiamen blocked the way to the participants of the rally. The demonstrators stopped in front of riot militiamen and sang a hymn "O, God Almighty". But they riot militia officers began beat them up, break flagpoles, and tear banners. Militia was also thrown against the demonstrators. People, including journalists, were beaten brutally and knocked down to the ground. The demonstrators shouted to riot militiamen "Fascists".
Leader of the "Young Front" Zmitser Dashkevich was stricken down to the ground and kicked by riot militia officers. His face was injured. Later Zmitser Dashkevich told the Charter'97 press center riot militiamen were kicking them in the groin.
Other participants of the rally were also beaten up, some of them have torn cloths.
Then the demonstrators were forced out of Independence Avenue and Yakub Kolas square. Riot militiamen were shoving and insulting them. In the end of the rally leader of the "Young Front" made a statement. He said in particular:
Dispersion of a peaceful youth rally today demonstrates absence of any liberalization in the country. It is farce. Youth is still being beaten in Belarus."
Belarusian media notice that crackdown of this rally has become the cruelest for 12 years, this peaceful youth rally is held.
It should be reminded that press secretary of the "Young Front" Tatsyana Shaputska was detained ahead of the demonstration. She was detained near a car that delivered balloons to the square.
Earlier, riot militia also detained leader of the "Young Front" Zmitser Dashkevich and activist Zmitser Yasevich, who was taken away many sparklers prepared for the rally. The guys were set free, so they were able to take part in the street action.
Photo by "Nasha Niva"
Photo by "Nasha Niva"
In the picture: leader of the "Young Front" Zmitser Dashekvich is being beaten up riot militiamen
Photo by "Nasha Niva"
Photo by "Nasha Niva"
Photo by "Nasha Niva"