Lukashenka wants to repopulate Chernobyl Chernobyl's Zone "quickly" (Photo)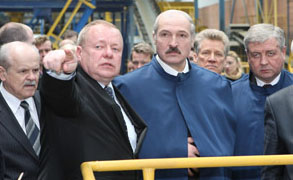 New statements of Belarusian leader have been made on April 25 during his visit to the town of Brahin.
Alyaksandr Lukashenka finds it necessary not only to liquidate consequences of the Chernobyl disaster in the affected areas, but to revive these regions.
"We shall revive this land at whatever cost. We should stop lamenting and complaining," A. Lukashenka said, visiting Brahin district, Homel region, which had been affect by Chernobyl catastrophe most, Interfax-Zapad informs.
As said by the Belarusian ruler, "all the money allocated for Chernobyl programs are to be reoriented for recovery of these regions". "Safety of our citizens is to stay number one issue of course," Lukashenka underlined.
He said that in autumn this year evaluation of the situation in the contaminated regions would be made. "Whom could you believe today? Should you believe to those who is sitting and disserting somewhere, or to those to walk on this land every day? Certainly to those who are living here," A. Lukashenka noted. "I trust people and I have reliance on people, as they know better then others where the land could be cultivated and where not," the leader of the state added.
As said by him, "if you see that land could be ploughed up somewhere, then do that". At the same time, A. Lukashenka underlined the necessity to "toughen control over the safety of foodstuffs made in these regions."
Speaking about solving the problems of Chernobyl, A. Lukashenka noted that "there would be no good until we liquidate the department of Ministry of Emergency Situations (the department for Chernobyl aftermaths relief) and delegate these issues to local governors". "Some people say: how would people from abroad look at that? Well, the world hasn't helped us in any way. We are doing everything ourselves," the ruler said.
"Over time we stopped to divide the population of the country into "chernobylets" [people affected by the disaster and cleanup veterans] and "non-chernobylets", Lukashenka stated. As said by him, despite of the economic difficulties, the state "has enough money to offer all necessary facilities for decent life of people in affected areas". "We will give you as much money as required. Since this year we start to recover these lands, quickly and effectively," he stressed.
Russia has pumped out 10 bn dollars from Belarus
Alyaksandr Lukashenka does not believe that attraction of foreign investment could create some economic threat for the country.
"25% of the GDP is the loan threshold which shouldn't be overstepped by the state. And we have less than 8% now. When somebody in Russia or in any other country says that we have allegedly exceeded the safe threshold, that's because they fear we would ask for loans, and are saying in advance that they are still to reflect on whether to grant us loans or not," A. Lukashenka said answering the question of Interfax-Zapad news agency.
He noted that "if we are taking loans now, we are not sending them down the throat, but keeping in gold and currency reserves as a safety cushion". "At the moment we are not asking credits," the Belarusian leader said. "We have grabbed hold of the border of this crisis, balancing on the edge. Chief executives are saying to me that some progress is noticeable, and if such dynamics would continue till the end of the year, everything would be fine," A. Lukashenka said.
As said by him, if Belarus would be forced to make foreign borrowings, it is possible that "we would ask for loans from other people". At the same time, Lukashenka stated that "over the last year and a half Russia has pumped out of Belarus $10 bn due to increased gas price and imposed oil duties, and we have been given as many as $2 bn at very high interest, which is unprecedented in the world".