Belarus celebrates Freedom Day
22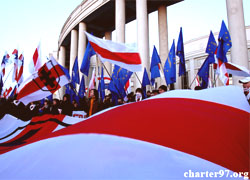 March 25 is the 92th anniversary of declaration of the Belarusian People's Republic.
The official authorities of Belarus do not recognize this date, but the democratic community celebrates it every year as Freedom Day.
Festive events dedicated to this holiday are to take place in Belarus and abroad today.
A march and a meeting are planed in Minsk today. Participants of the action will gather at 6 p.m. near the building of the National Academy of Sciences. The rally is authorized by Minsk city executive committee.
This year the organiser of the rally is the Belarusian Popular Front Party. The application for the rally had been filed by the leader of the BPF Alyaksei Yanukevich, the leader of Minsk branch ofthe BPF Viktar Ivashkevich and about 10 oppositionists who are set to become candidates to local councils' deputies. The rally has also been suported by the UNited Civil Party, "For Freedom" movement and other parties and organisations. Andrei Sannikov, the leader of "European Belarus" civil campiagn, has called upon the Belarusians to take part in the action on March 25 too.
The route of the march hasn't been defined yet. Organisers planned to march along Independence Avenue from the Academy of Sciences to October Square. However Minsk authorities traditionally sent participants of the festive rally to Bangalore Square instead of that.
Finally the organisers decided that the route of the march would be decided on by participants of the rally when they would gather.
Freedom Day is the most important holiday in the history of our country. On this day Belarus declared its independence.
Independence of the Belarusian People's Republic was declared on on March 25, 1918 in Minsk. For the first time the idea to create the Belarusian People's Republic (BNR) was announced during the First All-Belarusian Congress in 1917. After wrecking of the peace talks in Brest-Litovsk and offensive of the German troops Bolsheviks left Minsk. In this situation representatives of the Central Belarusian Military Council and the executive committee of the Rada (Council) of the First All-Belarusian Congress announced themselves at the territory of the country until calling the constitutional Sojm (convention). On February 21, 1918 the Executive Committee of the Rada elected the first government of the BPR, the Council of the Belarusian People's Republic, headed by Jazep Varonka.