Further attacks on "Narodnaya Volya", this time by BRSM (Photo)
78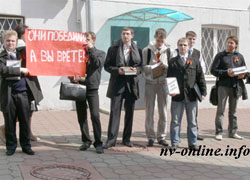 Twelve activists of the pro-governmental Belarusian Republican Youth Union (BRSM) held a picket in front of "Narodnaya Volya" (People's Will) office.
As a week ago, the protestors expressed their dissatisfaction with the article from Illya Kopyl's book Nyabyshyna. The War, telling about activity of Soviet guerillas in the Byahoml district in the period of Nazi occupation.
A similar picket was held a week ago by the Minsk city organization of war veterans, the newspaper "Nasha Niva" reminds.
The BRSM members were holding posters "They won! You are lying!" and "Really people's? Really will?"
The picket was organized by the Minsk city branch of the BRSM. Its head Alena Khadyka said at the action: "War veterans come to us and cry."
BRSM activists visited the office of editor Svyatlana Kalinkina, who noted that proposals of war veterans had been taken into account and they would have an opportunity to express their views in the paper.
BRSM members were handing round the book Memory. Minsk with a note "Refresh your memory".
We remind that on April 6, about 30 veterans of the Great Patriotic War took part in a picket near the paper "Narodnaya Volya" office in Minsk that was permitted by the Minsk city executive committee.
The action was orchestrated by the chairman of Minsk city branch of veterans' organization, Anatoly Adonyeu. Participants were holding posters with the words: "NO to libel", "Down with Nazism", "to history falsificators!", "Syaredzich! We won't tolerate veterans' humiliation", "We have won enemies -- we'll win libellers".
Last week, Svyatlana Kalinkina commented reasons for and possible consequences of the veterans' picket near "Narodnaya Volya".
"It is one of the events of a vast campaign of exerting pressure on independent mass media. At this stage the regime is simply trying to do that using others, not by their own hands. Now they use veterans, who are always ready to stand up and defend the authorities," the journalist said in an interview to Radio Svaboda.