Lukashenka and Aliyev have not agreed on oil?
38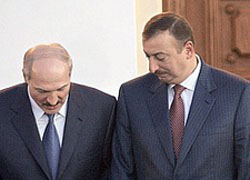 At the meeting in Baku Alyaksandr Lukashenka and Ilham Aliyev signed a declaration where not a word about oil is found.
The leaders of Belarus and Azerbaijan have expressed readiness "to develop and deeped cooperation in the sphere of transit andtransport communications". It is stated in a joint declaration signed today by the leaders of the two countries in Baku summing up the results of the negotiations, BelTA informs.
Lukashenka and Aliyev have expressed determination to adopt measures for serious increase of goods turnover. Besides, the countries are to exchange experience in the sphere of European integration, implementing the individual plan of cooperation with the EU and to coordinate positions in the framwork of the Eastern partnership program.
The leaders have agreed to actively develop the political dialogue at different levels in the full range of bilateral relations.
The sides have stressed necessity to improve the legal framework for further deepening of the bilatreal relations in economical, trade, military, technical and other spheres.
Главы государств, ссылаясь на усилия в рамках ОБСЕ, направленные на мирное разрешение нагорно-карабахского конфликта, а также на деятельность Минской группы ОБСЕ, выразили важность принятия более действенных дальнейших шагов в этом направлении.
The heads of the states referred to the efforts in the framework of the OSCE aimed at peaceful resolving of Nagorno-Karabakh conflict, as well as activities of Minsk group of the OSCE, expressed importance of taking more efficient future steps in this direction.
We remind that earlier Russian experts stated that Lukashenka's visit to Azerbaijan will turn into chest-thumping.
"In real fact, we should understand that the Azerbaijani oil is rather marketable in Europe and there are supplies channels to the region, for example the Baku–Tbilisi–Ceyhan pipeline. It means that Azerbaijan doesn't have big volumes of free oil. Of course, Baku will be happy to play these games showing other consumers how many countries want to buy its oil, that's why Lukashenka is waiting around. But we cannot say he will find serious volumes there. Belarus needs 20 million tons. Moscow can turn to financial instruments to punish Lukashenka for his behavior and reconsider terms of oil supplies to Belarus, change volumes of duty-free raw. So, the visit to Azerbaijan will turn into chest-thumping. Lukashenka won't get real volumes," Konstantin Simonov, president of the National Energy Security Fund of Russia, said.