The Tyrant of Belarus: Gaddafi's Friend Far, Far to the North?
36
By Simon Shuster, "Time"
3.03.2011, 12:34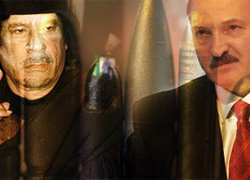 Colonel Muammar Gaddafi, the teetering despot of Libya, is losing friends fast.
Many of his military commanders have abandoned him. A good portion of the country has been seized by the opposition. The U.N. has hit him with crippling sanctions, and even his beloved Ukrainian nurse has flown home. But it seems there is still at least one ally willing to give Gaddafi what he needs to regain control — guns, ammo, maybe some mercenaries — and that ally is Belarus, otherwise known as Europe's last genuine dictatorship.
According to Hugh Griffiths, a prominent expert on the weapons trade, a flurry of planes was flying between the two countries just as the international community was preparing an arms embargo against Gaddafi. The embargo, finally imposed on Sunday by the U.N. Security Council, may have come too late to make a difference. According to Griffiths, several shipments from Belarus look to have slipped into Libya, most likely carrying arms. "So by the time [the U.N. sanctions] were put in place, the horse had already bolted," says Griffiths, who works for the Stockholm International Peace Research Institute, an independent think tank that works closely with the U.N. (See the latest scenes from the unrest in Libya.)
The first suspicious flight, Griffiths says, took off on Feb. 15, the first day of Libya's mass unrest. A Russian-made Il-76 cargo plane departed that day from Baranovichi airport, the site of a major weapons stockpile that Belarus inherited from the former Soviet Union, and landed in Sebha, a Gaddafi stronghold in the southern Libyan desert that is out of reach of Western radar systems. It is one of the few airports still under Gaddafi's control.
In the past two weeks, according to Griffiths, a Libyan Falcon 900, the favored aircraft in the Gaddafi family's personal fleet, has also made flights in and out of Belarus. What they were carrying remains a mystery — some media reports have said they were packed with gold and diamonds for the Belarusian leader — but the main asset Gaddafi would need right now in return is not artillery or war planes. "Everyone had been supplying him with weaponry for years," Griffiths told TIME in an interview Tuesday. "What he was short of was guys in uniform to use it." (Comment on this story.)
According to recent reports, there have indeed been men who look European among the allegedly African mercenaries battling it out with Gaddafi's rivals. On Feb. 25, witnesses to these clashes told CNN that some of the mercenaries were rumored to be from Belarus. The government of President Alexander Lukashenko dismissed these reports as "speculation," saying they were part of an "information attack" on Belarus — but the claims of his country's support for African tyrants then kept flooding in.
On Feb. 27, U.N. Secretary-General Ban Ki-moon said he had learned "with deep concern" that Belarus was delivering attack helicopters to the forces of Laurent Gbagbo, the embattled President of Ivory Coast. Gbagbo was accused of stealing an election in November, and has been brutally clinging to power ever since.
Lukashenko knows about such violence. In December, his electoral victory was also disputed by international observers, and tens of thousands of protesters rallied against him in the main square of his capital, Minsk, with some trying to storm the parliament building. Police beat and arrested hundreds of them, and last week Lukashenko said he "would not have hesitated" to send in the military if those protests had posed "a real threat."
The U.S. and Europe hit Lukashenko with a new round of sanctions in January, helping to put him in the same league Gbagbo and Gaddafi are in now, says Alexander Klaskovsky, a political analyst in Minsk. "He is pushed into a corner right now," Klaskovsky says. "So he has a bit more reason to sympathize with his so-called blood brothers, who find themselves in a similar position." This is nothing new for Lukashenko. In 2010, for instance, he gave asylum to the autocratic President of Kyrgyzstan, Kurmanbek Bakiyev, who has been living comfortably in Belarus ever since he was overthrown by a mass uprising last April.
But Lukashenko's most powerful instinct, Klaskovsky adds, is not sympathy but self-preservation. "He is a master at thumping his chest, but he knows what lines he cannot cross. And he has never engaged in weapons trades when the spotlight of U.N. sanctions is really shining down." (Comment on this story.)
So any military support Belarus has been giving Libya has likely been cut by the U.N. embargo, ironically imposed on the same day that Gaddafi lost another lifeline from Eastern Europe. On Sunday, his Ukrainian nurse, famously described in a U.S. diplomatic cable as "a voluptuous blonde," flew home after having cared for Gaddafi for years. Her loyalty, however, seems not to have waned. "Papa is good, Papa is for ever," Galyna Kolotnytska was heard saying about Gaddafi by one of her fellow passengers, according to the Reuters news agency. "Gaddafi will win. In a month and a half to two months, we will be going back there."
Good luck with that. But if "Papa" and his fighters fail to overcome the revolt, the Libyan leader could still have the option of seeking refuge in Belarus. It would be a little cold for him to pitch his tent in the winter, but it may be a better option than the International Criminal Court in the Hague.
By Simon Shuster, «Time» (USA)