Alyaksandr Lukin: Secret services suspect I am implicated in Natallya Radzina's escape
15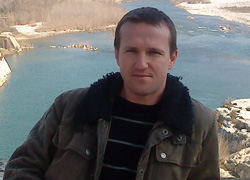 Alyaksandr Lukin, an entrepreneur from Kobryn and resident of France, fled from Belarusian border guards to Poland.
He says he is on the list of people to be detained and also suspected of bearing relation to the escape of Natallya Radzina, the editor of charter97.org website.
As Radio Svaboda reports, Alyakdandr Lukin and his family were crossing the border at Slavatich border checkpoint on May 4. Alyaksandr says that after a long document check, Belarusian border guards offered him to go to a backroom, but did not say why. When Alyaksandr went to Polish offices, border guards ran after him.
"I did not even see where I was running. But a saw a Belarusian lieutenant who was following me shouting and swearing. He stumbled and fell, but continued to pursuit me. Polish border guards saw this. The situation shocked them and they wanted to help to detain me. Then I told them about possible political persecution," Lukin said.
Polish border guards did not give Alyaksandr Lukin to their Belarusian colleagues. His wife Alena went to the Belarusian territory to their children and returned to Kobryn. Alyaksadnr Lukin says he thought about taking his family to France. His relatives have not been informed yet that they are restricted to travel.
"In any case, I thought about moving from Belarus. But I did not think I might face such problems. Maybe they just wanted to talk to me, but border guards confessed that I am on the list of persons to be detained. as for my wife and children, nobody has told her she is restricted to leave the country."
The Belarusian entrepreneur left his passport to Belarusian border guards. Polish border guards issued him a notice saying his ID documents were on the border. Besides, Alyaksandr also has French ID card.
"I have an ID card and a residence permit in France. I entered Poland on the ground of this document. Poles also gave me a notice saying that my documents were seized by Belarusian border guards."
Alyaksandr Lukin says an attempt to detain him was politically motivated.
"I entered Belarus in late March. I spent two days in Kobryn. It was when Natallya Radzina escaped from the country. The security services suspect that I am implicated in this. My house was searched after that."