Criminal prosecution of Uladzimir Kobets stopped
15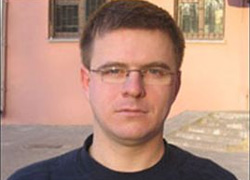 Uladzimir Kobets, Andrei Sannikov's campaign manager, has received to official documents from police.
"The first letter says criminal prosecution has been stopped. The second one says a temporal restriction of leaving Belarus has been lifted," Uladzimir Kobets explains.
Uladzimir Kobets was a campaign manager of presidential candidate Andrei Sannikov. Kobets was arrested after the elections and thrown into the KGB jail for over a month on suspicion of taking part in the mass disorders on December 19.
Earlier, criminal cases against head of the United Civil Party Anatol Lyabedzka, editor of Charter'97 website Natallya Radzina, activist Aleh Korban, former presidential candidate Ryhor Kastusyou, activist of Mikalai Statkevich's team Ales Arastovich were closed.
Over 25 political prisoners, including presidential candidates Andrei Sannikov, Mikalai Statkevich and Dzmitry Uss are still in prison. Termination of criminal prosecution against some people involved in the case of December 19 is ordinary bargaining between Lukashenka's regime and the West.