Amnesty International urges to free all prisoners of conscience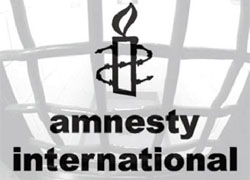 Amnesty International welcomes the release of two prisoners of conscience and calls to free the remaining ones.
"The Belarusian authorities must immediately and unconditionally release the remaining prisoners of conscience," korrespondent.net quotes John Dalhuisen, Director of Amnesty International's Europe and Central Asia Programme.
Human rights activists regard the release of Andrei Sannikov and Zmitser Bandarenka as a positive step.
Andrei Sannikov, Alyaksandr Lukashenka's  main rival at the latest presidential elections in Belarus, was released on Saturday, April 14. Zmitser Bandarenka, Sannikov's election agent, was pardoned by Lukashenka the following day.
Political prisoners Andrei Sannokov and Zmitser Bandarenka were denied access to lawyers and relatives for a long time. There was no information during some months if they were alive at all. Presidential candidate Sannikov was moved from prison to prison several times. Each transfer lasted for weeks.