Bundestag supports boycott of Ice Hockey World Championship 2014 in Belarus
67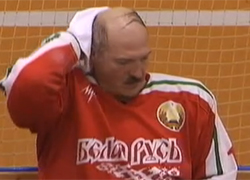 The Parliament of the Federal Republic of Germany supports the idea of boycotting the Ice Hockey World Championship 2014 in Belarus.
The draft resolution calling to move the sporting event to another country was prepared by the Social Democratic Party of Germany (SPD) and The Greens parliamentary groups, Sueddeutsche Zeitung writes. Members of the ruling CDU/CSU group joined working on the draft resolution.
German politicians think Alyaksandr Lukashenka  does not deserve to host the championship.
The Greens say the human rights situation in Belarus is much worse than in Ukraine, so a decision to move the event to another country should be taken in advance. Members of the Bundestag plan to call on the German Ice Hockey Federation asking to raise this question at a congress of the International Ice Hockey Federation in Helsinki. Politicians believe it will be unpleasant for most sportsmen to receive awards from a dictator.
The European Parliament already called on national ice hockey federations to vote against holding the world championship 2014 in Belarus. The President of the International Ice Hockey Federation (IIHF), Rene Fasel, emphasized political neutrality of sport and refused to move the event. He noted the discussion remained open and could be continued at an IIHF congress in May.