Stanislau Shushkevich: Lukashenka to face tribunal
141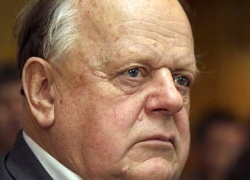 The first head of independent Belarus is confident: there will be no elections in Belarus this autumn.
The first head of post-Soviet Belarus, Stanislau Shushkevich, told Gazeta.Ru why his party would not run in the forthcoming "parliamentary election", expressed his attitude to protests in Russia, Putin and Nazarbayev's mentality and said why Lukashenka would hold on power till the end.
The "parliamentary election campaign" has started in Belarus. What do you thin about political situation in the country in general?
I am absolutely confident there will be no real elections. It is proved by all previous events known as "elections". Our social democratic party has not held a general meeting over the issue, but all people I talked to do not support an idea of running in the "election". I can say with certainty the party will not run in the election. There are no changes in the country.
Moreover, I doubt the situation in Russia has changed. Earlier, then president Medvedev could have said Belarus is far from being well in political sense, but Putin will not allow to say it now.
Our eastern neighbour in fact chose the Belarusian way in political sphere.
As for the parties and movements that intend to run in the "elections". Let's take Tell the Truth for example. Firstly, it is not a political party. It is a strange organization with unclear positions. They have no courage to be a political party or to support a party.
Let's take the UCP [United Civil Party]. You know, an influential American expert once asked me: "Why cannot the Belarusian opposition unite?" My answer was simple: "Because you help those acting against the majority opinion." It's clear the West will not back those insisting on boycott of the "election". But certain groups stand against boycotting because they find support in the West.
Is it possible that in a certain situation Lukashenka will demonstratively allow some opposition members to enter the "parliament"?
Yes, of course. I think it will be a rather logical step. There are a lot of opposition figures dreaming of becoming members of parliament.  
Can it be so that Lukashenka will allow "puppet" liberal democrats and loyal communists to take parliamentary seats and say: this is the opposition?
I'd like to say that even if he allows Syarhei Kalyakin's people to become MPs, it will be natural. I have been watching them for a long time and I see they in fact support the political regime created by Lukashenka. I don't see any difference.
Syarhei Kalyakin poses no danger to Lukashenka. Such people begin to appear in the UCP – for example Ramanchuk at the presidential election or Andrei Dzmitryeu from Tell the Truth. Many kneel to Lukashenka.
How long will Lukashenka remain in power?
I think Putin-Lukashenka-Nazarbayev alliance prolongs his viability. There are arrangements even today that in case of destabilization of situation in Belarus or Kazakhstan, Eurasian forces, which are in fact Russian armed forces, will be brought in.
Everything depends on a situation in Russia. I have little hope for Russian old political forces. But talented politicians appeared in Russia. The events on Bolotnaya Square and Sakharov Avenue are very illustrative.
Last week, two former presidential candidates, independently of each other, told me the same scenario: Lukashenka will not run in the 2015 presidential election, but instead he will go to the post of the Eurasian Union head. Do you think it's real?
I dare assure you and I bet on anything that Lukashenka will never, under no circumstances, move to a useless position with no power. Only naive day-dreamers can suppose so!
He can claim to the Russian throne – he claimed to it earlier, under Yeltsin, and he thinks about it now, though he understands it's hardly possible. He will cling to power in Belarus. Because if there is an independent investigation of what he did, he will meet a sad end regardless his position in any Eurasian union. He will face tribunal. Maybe not in The Hague, but somewhere else.