Military courts to be closed?
24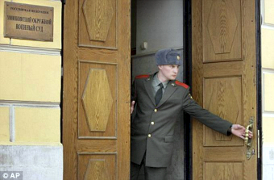 Lukashenka in favor of phasing out military courts.
It is necessary to deactivate military courts in Belarus and hand over their cases to courts of general jurisdiction. Lukashenka made the statement at the government session held on 19 November to discuss the improvement of the operation of courts and judicial bodies.
According to him, military courts represent a country inside the country. However, courts should be the same for everyone, even military personnel because they are citizens just like everyone else, noted Lukashenka.
He stressed that he will not accept half measures. "If we set out to create a universal justice system in our country, then let's do it without leaving something unfinished," said the head of state.
"I've put a lot of efforts into safeguarding judges against telephone justice," he said. "No one can say that telephone justice exists in Belarus".
"Everything must be honest. No one can give instructions to a judge. No one can put pressure on a judge. Everything has to be independent. A judge has to follow the law only," stressed the head of state.
"We are servants of the people. I say it again and again. Civil servants – me as the president and you, the people I appoint – must serve the nation," added Lukashenka.
Presiding Judge of the Supreme Court Valentin Sukalo noted that Belarusian judges feel complete independence at present.
Photo: AP