Seviarynets: Case of priest Lazar is test for all Belarusians (Video)
7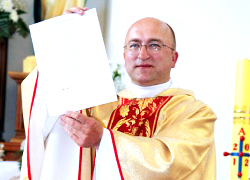 Priest Uladzislau Lazar, who has been in the KGB jail for almost six months, is a sacrifice of the Belarusian people who didn't submit to injustice.
"He is a man so devoted to God that he is ready to sacrifice his life for us. He is in jail because we are silent, because we cannot release him, because human rights activists don't recognise him prisoner of conscience. How cannot priest Lazar be a prisoner of conscience?" Pavel Seviarynets, a co-head of the organising committee to open the Belarusian Christian Democracy party, said on November 19 at the marathon of solidarity with the arrest priest.
BCD activists collected more than 5,000 signatures for the release of the priest in 30 Belarusian towns and on the internet, according to him. "It's not enough. We need to continue praying and working. It is a test for all of us. If Belarusians cannot protect their political leaders, they should protect the priest," Seviarynets said to a BDG correspondent.
The politician drew an analogy between priest Lazar and the biblical Lazarus, who was restored to life by Jesus with the help of prayers of his relatives and the people who rolled the stone away from his tomb. "God waits for the critical mass of people that could roll the stone [the KGB]," the BCD co-head thinks.
The politician called on Belarusians to pray for Belarus near the Red Church at 20:00 every Friday and urged the Catholics to offer Masses for the soonest release of the priest.