Maira Mora: Minsk resumes human rights dialogue with the EU
13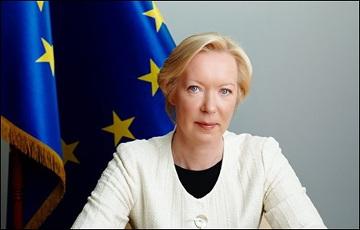 Discontinued talks on human rights between Belarus and the European Union must be resumed this year.
Maira Mora, the head of the European Union delegation in Minsk, told in her interview to Radio Svaboda.
"Belarus has agreed to resume the human rights dialogue, which took place for the first time in the spring of 2009. Later there were no joint meetings on the subject. Now it is decided on a date. It will likely happen this year.
This is a part we cooperate on, the so-called roadmap timeline. It is expected that this dialogue will take place at expert levels in various fields: for example, if it relates to the prison system, there will be a representative of the Interior Ministry on issues accepted for discussion", Maira Mora stressed.
In 2009 Belarus and the European Union agreed to hold the human rights dialogue. Formal dialogue was initiated on April 6, 2009, based on the results of the meeting of the Council of the European Union at the level of Ministers of Justice. The dialogue included meetings both in Belarus and the European Union "at least once a year." But after 2009 there were no such meetings.
The Chairman of the Belarusian Helsinki Committee Aleh Hulak noted the EU representatives consulted with human rights activists on it, but the format of the dialogue does not provide for their participation.
"It's the dialogue between Belarus and the European Union. Human rights activists are not involved. But, definitely, the EU held consultations on topics concerning order of the most important issues. Such consultations took place and, as I understand, will be continued", he noted.
Hulak does not put high hopes on the human rights dialogue, but consider it a positive moment: "I'm far from being absolutely happy, but it is better than nothing. We should take advantage of it. It is nice that we have such an opportunity".
It should be reminded that Maira Mora does not enjoy confidence of many Belarusian and European politicians and civil rights activists because of numerous facts of "flirting" with Lukashenka's regime. A week ago, the Swedish human rights organization Östgruppen proposed Maira Mora's resignation initiative. The initiative was soon supported by many Belarusian politicians.