Brest regional court dismissed complaint of political prisoner Yury Rubtsou
6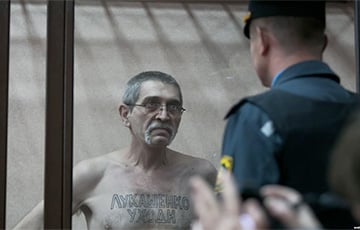 The panel of Brest regional court has considered the cassation complaint of an activist Yury Rubtsou.
The political prisoner asked the court to reverse the judgement of Pruzhany district court, according to which he was found guilty of evasion from serving punishment at a penal institution, and sentenced to 2 years in a penal colony.
"They listened to the complaint, pretended to examine all the arguments of defence, but dismissed the appeal. Rubtsou was not taken to the court. Local trade union activists came to support him," the lawyer of Rubtsou said to Radio Svaboda reporter.
The denial to satisfy the appeal means that the sentence to Yury Rubtsou has taken effect. For more than 2 months Yury Rubtsou, sentenced to corrective labour, was kept in the remand prison in Baranavichy. Where is he to be transferred to serve the new sentence?
"It is still unknown. There are many general regime penal colonies in the country, he could be sent in any of them. Yury's family has a right to file a petition to the Corrections Department of the Interior Affairs Ministry and offer a concrete colony, sometimes such petitions are taken into account, but it could be guaranteed," the lawyer said.
So far the lawyer does not know whether Yury Rubtsou is going to appeal against eh judgement of Pruzhany district court again. "I am on the way from Brest to Baranavichy, and I hope to visit him there. I will find out everything," the lawyer said.
It is known that after the last meeting of Yury Rubtsou with the lawyer in early July in Baranavichy remand prison, the political prisoner went on a hunger strike of protest against being treated as a criminal. Representatives of the remand prison do not confirm information about Rubtsou's hunger strike.
In the end of 2014 an activist from Homel Yury Rubtsou was sentenced to a year and a half in an open-type penal institution for calling a judge "a bastard", as the judge tried him half-naked after Chernobyl march. The day before his T-shirt "Lukashenka, go away" it was torn off by policemen. Later in the open-type correctional facility in the village of Kuplin, Pruzhany district, Yury Rubtsou made tattoo with the same words. There Rubtsou demanded to be given a job with an average salary of $500, as it had been declared by Lukashenka, but there was no such job in Pruzhany district for him. For his denial to work for low wages policemen opened a criminal case against the activist, he was charged with evasion of serving punishment. The court of Pruzhany district found Yury Rubtsou guilty under this article.
Opposition and human rights activists in Belarus and abroad have recognized Yury Rubtsou a political prisoner and demand his release.