Relatives of political prisoners: Wrong impression of situation in Belarusian prisons is being created
3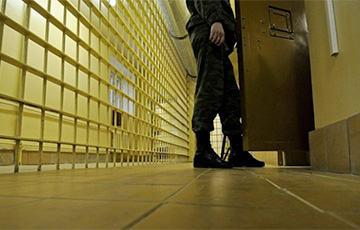 Families of Belarusian political prisoners and citizens who had been victims of court lawlessness, have written an open letter.
The letter is addressed to the leadership of the organisation called Platforma Innovation, which at present is carrying out a so-called monitoring in Belarusian prisons, which are known for torture and inhuman treatment of inmates. The letter has been also sent to the editorial office of charter97.org. We offer the full text of the address:
"Prisons and places of confinement are the most critical areas worldwide, as far as respect to human rights in concerned. The Republic of Belarus is no exception to this rule in this context. The situation with human rights violations in Belarusian prisons causes concern not only among human rights activists, relatives of political prisoners, but of the entire civil society. Human rights activists endlessly receive information about violations of prisoners' rights not to be subject to torture, cruel, inhuman and humiliating treatment.
Monitoring of places of detention is necessary, and it should be a practical mechanism of detecting human rights violations, facts of inhuman treatment of prisoners, contribute to prevention of torture and suicides of inmates.
As it has been informed recently, Platforma Innovation organisation has got admission to Belarusian prisons, and as they claim, they regularly do their monitoring there.
Some time ago interviews with the leader of this organisation, Alena Krasouskaya-Kaspyarovich, were published in mass media, and in these interviews she claims that the situation in Belarusian prisons in recent years has considerably improved (renovation according European standards, improved nutrition and living conditions, fair payment for work), prisoners do not complain even about keeping them in punishment isolation cells. It should be noted that judging by the words of Platforma Innovation head, visits to prisons by this organisation is not regulated by any norm of the law, as well as making the lists of visitors. Meanwhile, in a lawful manner no representatives of human rights organisations had been given an opportunity to observe incarceration conditions of prison population.
We hold opposite information on the situation in prisons, we constantly receive signals about tortures, cruel, inhuman and humiliating treatment applied to prisoners. We know about pressure and torture against political prisoners. The results of that are ruined lives, warped psyches, broken mentality and loss of health by thousands of people. As a result of statements made by the leader of Platform Innovation Krasouskaya-Kaspyarovich, the society receives a wrong impression about the situation in penal institutions, and it does huge damage to prisoners themselves, who have no possibility to convey the real picture of events to the society and defend their rights.
We demand the leadership of Platform Innovation to publish their monitoring of penal institutions, and also to inform the public according what methodology this monitoring had been made. Open results of the monitoring and transparency of its carrying out are one of the indicators that the observation by human rights watchdogs was independent.
We believe that such loud statements should not be unsupported allegations, but they should be supported by real facts and figures, and the monitoring itself should meet international standards."
The letter was signed by more than 50 persons:
1. Maryna Adamovich, Minsk
2. Maryna Lobava, Minsk
3. Dzmitry Drozd, Minsk
4. Raisa Mikhajlouskaya, Minsk
5. Lyudmila Kuchura, Minsk
6. Valyantsina Alinevich, Minsk
7. Yadviga Rubtsova, Homel
8. Viktar Rubtsou, Homel
9. Paval Sevyarynets, Minsk
10. Zmitser Dashkevich, Minsk
11. Anastasiya Dashkevich, Minsk
12. Alyaksandr Fyaduta, Minsk
13. Enira Branitskaya, Minsk
14. Syarhei Ustsinau, Minsk
15. Pavel Levinau, Vitsebsk
16. Mikalai Autukhovich, Vaukavysk
17. Leanid Sudalenka, Homel
18. Uladzimir Bukshtynau, Minsk
19. Tamara Sidarenka, Minsk
20. Ihar Lednik, Barysau
21. Ihar Rynkevich, Minsk
22. Hanna Shaputska, Minsk
23. Yuliya Stsyapanava, Minsk
24. Alyaksandr Makaeu, Minsk
25. Maksim Vinyarski, Minsk
26. Yauhen Batura, Minsk
27. Dziyana Seradzyuk, Minsk
28. Alena Zastsenchyk, Minsk
29. Larysa Stoma, Minsk
30. Mikalai Bambiza, Minsk
31. Volha Mikalajchyk, Minsk
32. Halina Mamedava, Minojty, Lida district, Hrodna region
33. Alla Maskouskina, Minsk
34. Lyudmila Samusenka, Minsk
35. Lyudmila Hancharova, Minsk
36. Raisa Babenka, Minsk
37. Tatsyana Agayonak, Homel
38. Tamara Minchukovich, Maladzechna
39. Faina Trubchyk, Maladzechna
40. Natallya Vyadzernikava, Minsk
41. Tatsyana Rybkina, Minsk
42. Sofya Shastakovich, Minsk
43. Alyaksandr Safonau, Navapolatsk
44. Liliya Karabchonak, Navapolatsk
45. Maryja Bud-Husaim, Salihorsk
46. Larysa Yoksha, Minsk
47. Svyatlana Samakhvastouskaya, Minsk
48. Tamara Zenchanka, Minsk
49. Sofya Bohush, Maholyou
50. Nina Shmarlouskaya, Babrujsk
51. Raisa Rusak, Minsk
52. Ryhor Sarokin, Machulishchy, Minsk district
53. Iryna Vitkina, Minsk
54. Maryna Sachuk, Minsk
55. Sofya Rudenka, Minsk