Landsbergis To Lukashenka: Noose Is Ready For You On Kremlin Chimes
21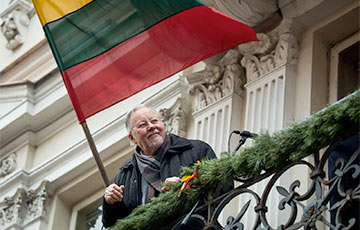 The first head of independent Lithuania appealed to Lukashenka.
Former chairman of the Recovery Seimas of Lithuania Vytautas Landsbergis in his speech from the balcony of the House of signatories paid the most attention to the dangers, posed by the nuclear power plant construction in Belarus, and urged Aliaksandr Lukashenka to stop the construction in Astravets, Delfi reports.
According to the professor, Lithuania is now facing a dual nuclear blackmail – the deployment of "Iskanders" and the nuclear power plant under construction in Belarus.
Landsbergis appealed to Lukashenka, rhetorically questioning whether he was ready to push Belarus to the nuclear threat for the sake of economic motives.
"It is time to appeal to Lukashenka, who is on the other side of the border – Aliaksandr, Lithuania's ruination will not save you. A noose is ready for you on the Kremlin Chimes .It is not a distant issue, so let's defend together. In the first place stop the Rosatom fatal construction in Astravets," – Landsbergis said from the balcony of the House of signatories.
The first de facto head of independent Lithuania also criticized, in his words, sluggish actions of the authorities on the issue of stopping the construction in Astravets.