Survey: 86% Of Belarusians Proud Of Their Language, Belarus And Ready To Fight For Country In Case Of War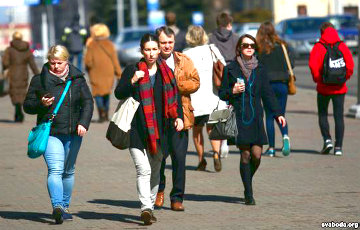 The sociological survey was devoted to the values and views of the Belarusians.
Within the framework of the project "Development" of the October Economic Forum, a sociological survey on the values and views of the Belarusians was held. About a thousand people took part in it – this is the traditional sample for Belarus.
The study was conducted by MIA Research in May – June 2018.
Part of the survey concerned the Belarusian language. Almost 66% of the respondents want their children to know Belarusian as well as Russian (34%, respectively, do not want).
The proportion of 86% to 14% is noteworthy; it is found in the answers to three questions at once.
86% of respondents believe that the Belarusian language is a most important part of the culture and should be preserved. The same number of people says they are proud of Belarus. And as many are ready to fight for their country in the event of war.
However, only 2.2% speak Belarusian at home. About 22% – either in two languages or their mixture, and the majority – 73% – speak Russian.
Most of the respondents believe that rising prices, low incomes, alcoholism, unemployment, high prices for housing and housing and communal services are the problems of modern Belarus.
It is noteworthy: according to the respondents, one must have not only wit or hard-working nature, but also the necessary acquaintanceships to become rich in Belarus.
Over the past three years, half of the respondents have never been abroad.