Minister of Labour Tells What Belarusians Abroad To Be Considered "Parasites"
205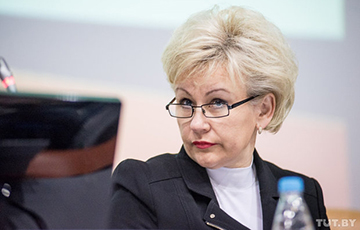 Iryna Kastevich's speech raises many questions.
At the meeting of the "House" held on May 17 Minister of Labour and Social Protection Iryna Kastsevich told about the amended decree on "parasites". According to the document, there are special commissions in every district which make up lists of "parasites". They were established last year when the previous decree was valid, but now they are the key link in work with "parasites".
Journalists had many questions on implementation of the decree ("parasites" are subject to pay in full for some utilities - hot water supply, heating, gas).
KP.by put together the most urgent answers of the minister.
- How those living abroad will prove they are not "parasites"?
- If a person will provide the document proving a work abroad, it will be marked that he is not subject to payment for some utilities in full. One can submit e-mail confirmation about a job placement. It was also practiced by the previous decree, and it worked good, Iryna Kastsevich explained.
- Is the person obliged to provide any document? journalists wondered.
- Employment agreement and salary certificate are required.
- Are stamps on passing the border not enough?
- No-no. One can have different reasons to pass a border, therefore, one should prove employment abroad, and it means the employment agreement.
- What if a person studies? Or lives abroad, but does not work?
- Let's do it as that. Now we cooperate with Regional Executive Committees on the list of hardships and it will help commissions to make decisions. Until June 1, all committees will provide their questions and suggestions for the list of hardships. In June we will make up two major handouts, which serve as a manual for commissions - hardships and answers to questions, which arise during the work of commissions.
- What is the function of commissions, if there are employment centres in the country? Do they fail to cope with their responsibilities?
- The employment centre is aimed to release tension on the labour market and provision of vacant jobs. First of all, commissions aim to coordinate work and they are represented by the number of services: the Ministry of Internal Affairs, tax authorities, the employment service. And since one of objectives of the decree stipulates the employment promotion through full reimbursement for utilities, the establishment of database of unemployed citizens is very responsible work which should be performed by commissions only.
- Why do other countries support the unemployed, and our country punishes them?
- Those who are registered at the labour exchange are not subject to the decree, becausethey really suffer hardships - they lost their jobs and seek the state's assistance to find a job. And the state will do it, Iryna Kastsevich explained.
- When Belarusians start to pay for all housing and communal utilities in full, what will parasites pay for then?
- Let us first start to fulfill the decree. And the practice will show how it works, Iryna Kastsevich said.
- Soon the parasite database appear, many services including commissions, the MIA, and so on will have access to them. Is this the violation of human rights, isn't it?
- The database will only include you name, surname, birth date, residence address and information whether you're employed or not. The issue on transfer to e-employment books is being developed. The establishment of database of able-bodied citizens is the first step. By the way, it's online-database: if you regign today, you'll be enlisted tomorrow. We live in the XXI century, everything should be computerized.
It will be recalled that on January 25 Lukashenka signed Decree № 1. The new decree does not include norms on fee collection from the unemployed for the financing of public expenditures. At places special commissions will be established to collect information about "parasites".
The list of services subject to full payment is as follows:
gas supply with individual gas heating devices; heating; hot water supply.
The decree comes into force on January 1, 2019.
It will be recalled that the previous version of the decree caused mass protests.