Jauhen Afnahel: Lukashenka Himself Is The Weakest Link Of The Regime
17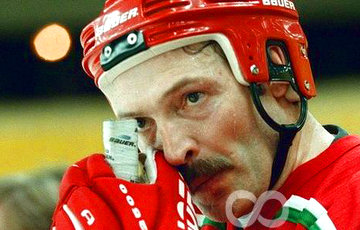 We live in interesting and responsible time.
When making appointments of new ministers of finance and energy, Lukashenka made a weird statement on Friday. According to the dictator, overall excessive drinking among high officials caused recent personnel moves in the government.
Given that higher officials are appointed by Lukashenka himself, there is a question - who does run the country?
Charter97.org asked coordinator of the European Belarus civil campaign and one of the leaders of the Belarusian National Congress Jauhen Afnahel for comments.
- Lukashenka and his ministers have recently found themselves at the center of clamorous scandals. During the meeting in Orsha the dictator himself confessed that officials did not listen to him anymore. Can this be the exacerbation of the crisis in power of Belarus?
- There were conflicts earlier, but now they are closely intertwined with rumours about a severe disease of aging dictator. And the rant about total excessive drinking among higher officials savours it with ridiculous shadows.
It resembles of the decay of the ruling regime of late USSR, even when adherents to the power, common members of the Party realized that hardly wise people were running the country. Its wreath was trembling hands and slurred speech of heads of the GKChP (State Committee of the State of Emergency).
If the power does not change, if there are no elections, competitiveness of ideas and politicans, stagnation starts. Old officials have long got accustomed to "severe reprimands on camera" from time to time; they know there are no people to replace them. Why should they listen to him, if they will stay in their chair all the same? Moreover, if their boss is not fully mentally healthy.
Of course, it happens new people appear in the dictator's circle, but it's not for long. An educated person will never be able to work with people who think in terms of the 70s of the last century. That's why these people either quit or surrender soon and adopt rules of the game turning into pensioners of the Soviet camp.
- How do you evaluate the international situation around Lukashenka's regime? Is imposition of sanctions against Belarusian authorities possible caused by judgment of conviction with regard to "Trade Unions' case" and repressions against independent media?
- You should address this question to leaders of democratic countries and international organizations. Civil rights defenders announced the situation deterioration with human rights in Belarus. Pressure on political prisoners continues in prisons, as well as arrests of opposition activists; Charter97.org is still blocked, new criminal cases against journalists are opened, Trade Unions are harassed. This is the result of indulgence to the dictator on the part of the civilized world. He takes "benefits" of the West for granted. Thus, the authorities of democratic countries share responsibility for repressions in Belarus.
Sanctions and tough stance are the only instrument of foreign influence. This instrument has proved its efficiency many times - political prisoners were released, repressions were suspended. Statements of some European politicians about necessity to reimpose sanctions voiced after the verdict to leaders of the REP Trade Union give us hope that sooner or later we can observe strict and consistent strategy of Western countries, instead of endless "road of sorrows".
- Theorists and practical men of peaceful resistance assert that the dictatorship is not powerful, but it exists at the expense of various "stilts" which may be loosened. What do you think no is the weakest link in Lukashenka's regime?
- At different times, the dictator called different social and population groups his power base. I remember, according to him, they were the young, pensioners, Trade Unions...
But after a while, everyone realized that the dictator tried to calm himself down. The young joined the opposition and participated in protest actions; official Trade Unions have been defeated by independent ones; pensioners who used to be the electorate put the authorities off relying on them last year.
The only support, to be more precise, a hook the dictator was hanging on was his masters in the Kremlin. But now he suffers great challenges. Oil disputes and the last meeting in Sochi show that no hope for support of Russia is left.
Lukashenka himself is the weakest link of the regime. And most likely he has no one to rely on anymore. We live in interesting and responsible time. Belarus is at the guide-stone again. Such moments are called the "bifurcation point": the system is getting unstable and fragile; its further development depends either on a chance or, on the contrary, on an organized attempt of a group of people.