Henadz Fiadynich: Lukashenka Has Many Questions to Answer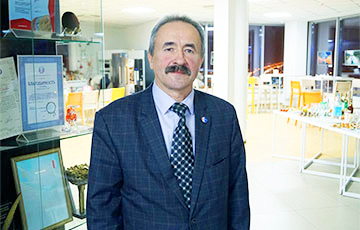 Where are the benefits, Sasha?
Belarusians are increasingly concerned about the pre-retirement age.
Citizens of 50 years old feel in the zone of "high risk". It's barely possible to find a new job at this age in Belarus, while due to Lukashenka's pension reform, they have to work many years before they retire.
People do not feel comfortable when they retire either. The minimum length of service has been increased simultaneously with other "reforms" and many people have faced social pensions. Given that major benefits for the poor were abolished during Lukashenka's rule, most Belarusians consider retirement as a "verdict".
How did it happen that instead of a deserved rest, Belarusians get "a pig in a poke" for their service? Henadz Fiadynich, the leader of the REP trade union, answers questions of Charter97.org.
- Demographically, 45-60-year-olds are a significant part of our society. How do you assess the situation of an ordinary Belarusian in this period of life?
- First of all, no one in Belarus has abolished contracts. They are part of the Labour Code. Although many employment contracts have a record that two years before retirement a person cannot be fired. But it does not make much sense. Today, people of pre-retirement age are dismissed on grounds of redundancy and not paid anything.
The situation depends on the purses of Belarusians. Given the fact that prices are growing, people's salaries are "growing" in a completely different way. If we talk about the industry, it's practically stopped there. The industry has raised only 2.5% of our GDP. It's almost nothing.
Therefore, I believe that the age of 45-60 is the age of uncertainty.
- In Estonia, people over 40 years old are called the "winning generation". Their income is the highest in the country. Why do Belarusians over 40 people not feel confident about their future?
- Everything depends on how the economy of this or that country develops. No matter how hard our authorities and mass media try to be persuasive, today the largest GDP is generated by "IT specialists" - more than 20%. Almost all giant factories have fallen into oblivion.
There is a lack of money for the population. But who has prevented the introduction of a funded pension system during these 25 years? The model was known and there were no obstacles.
People in other countries people with years of work experience earn money. The situation is different in our country. Mainly pensioners work at the majority of machine-building enterprises. Young people do not work there, there is no motivation. The most important thing is that the economy proposed 25 years ago has shown its worthlessness concerning the person of labour.
The result is as follows: Belarusians earn Br300-400 in the regions, and it's normal for them. People got accustomed to this standard of living. And the major thing is they got accustomed to "receive", but not to earn.
Belarus should create conditions for people to earn at least $600-700. And this is the minimum that a person working in our country should get.
- What would you suggest to do to guarantee the rights and social protection for people of pre-retirement age?
- First, we need to change the length of the insurance period and return it to its previous position - too many people have fallen into the insurance trap. Let it be 15 years.
Second, to introduce fixed-term military service and intramural form of study into the insurance period. If today military officers have their insurance period without making contributions to the social fund, why cannot this experience affect soldiers? They do not make contributions either. Do they protect their homeland differently?
And I would taboo the retirement age increase. The best age to retire is 61 years for men and 56 years for women. We miss the average "life expectancy". Look at how many people pass away before they retire!
Therefore, the authorities should apologize to the people, leave the current retirement age and start thinking about how to improve the economy today. If you are not able to do it then don't drive people into poverty! People want to live!
A funded pension system is needed. Let it be not even for this generation, but the next one.
Third, we need to develop privatization. Today the state is the employer. We need small and medium businesses to come. It is easier to reach an agreement with a real employer than with an "employer" represented by the state. In this case, the market will work, the labour force will be in demand and a decent salary will be paid.
And finally, there should be clear guarantees of the state for investors. Investments, new technologies and new jobs should appear. If there are no guarantees, no one will come here!
- Sometimes it seems that the authorities have started a "crusade" against pensioners. First, Lukashenka canceled their benefits, then raised the retirement age and the minimum length of service. What can this "policy" lead to?
- When you look at the situation from the inside - people in the transport, in queues, in polyclinics - pensioners finally stopped being silent. It's impossible to live off the pension of 300-400 rubles today, having grandchildren. After all, pensioners need medicines.
The number of pensioners will increase year by year. The issue of their support will become more and more acute. People just need to clearly understand that pensioners need to fight for their rights. Have you spent your whole life working, have you paid much money to the budget to get 400 rubles in the end?
I believe that our people are hard-working. They are creative, intelligent, but they need conditions. If you can't ensure them, so you need to create additional jobs. If a pensioner cannot simply live, how can it be possible that pensions of 1000 and 300 are increased by 5%? It should be raised by 20 rubles for everyone, for example.
Moreover, it is necessary to revise pensions of officials, deputies. These undeserved pensions of more 1000 rubles should be annulled. The pension should be based on the last place of work. If today people face hardship, let officials face the same. Officials cannot live, while people suffer. This is absurd!
- Many other categories of the population have lost their benefits under Lukashenka. Who, in your opinion, did suffer the most from the social policy of the authorities? Which deceived categories of the population need protection most of all?
- First of all, I would mention people who took care of the disabled of group I, who received salaries through social security departments. When they were hired, they had a guaranteed length of service - at the time, no one thought about the length of service. These people took care of the disabled for 8-10 years each, and it was not added to the insurance period. The state dumped its employees. How can it happen? This is such hard work, and the state just... This is a very serious situation!
Also, people who have higher education and have two or three children have been "dumped". Imagine - five years of education, then another six years - 11 years have not been added to the insurance period! Why do Ukraine and Russia include it?
If you do not provide benefits, then give a pension and a salary. But you deprive people of benefits and opportunity to earn money! The same applies to students: they have miserable scholarship! Moreover, many of them rent apartments.
Pensioners, students should be given year-round benefits for travel on public transport! Moreover, if the pension today is less than the minimum consumer budget, there should be a system of indexation and reduction of the cost of public services. If you raise a pension to the minimum consumer budget - today it is 467 rubles - then one has to pay for communal service on equal terms. You cannot ensure it, can you? There should be discounts for these people!
People can't afford to pay 120 rubles for the communal services when they have a pension of 300 rubles. This is a mockery of people. Therefore, there must be a well-thought-out, coordinated with representatives of the public, transparent compensation program for those people who do not receive these 467 rubles.
Returning to women on maternity leave, who also receive no insurance period. They receive nothing but childcare allowance! They don't get anything for themselves. How can these mothers live? It is great if a husband earns well. What if not?
There are too many questions for this state to answer. They cannot be solved with one stroke of a pen. Many laws, decrees, and orders are not worth the money. They need to be removed with one stroke of the pen!
I can say that this will be partially fair. Other issues need thorough consideration, and not in the offices of the Ministry of Labour or the Council of Ministers. It should be open and public, held in the regions. It should be understandable and transparent to civil society.
- Once, presidential candidate Aliaksandr Kazulin asked Lukashenka a question: "Where is the money, Sasha?" How relevant is the question: "Where are the benefits, Sasha?" Will the REP trade union raise it at the national and international level?
- At the moment, the REP trade union, together with other trade unions, is developing some requirements for the government, Lukashenka and the new "house". I think these requirements will be public and the issues will not only concern benefits. There will be about 30 comprehensive positions. We expect that these will be not only trade union requirements but also people's and civil ones.
- The World Bank has recently stressed the need to strengthen the social protection system for the most vulnerable categories of people in Belarus. This is especially true in the situation of the "tax manoeuvre" and the reduction of oil and gas preferences from Russia. Will the authorities listen to these recommendations? Or will they solve their financial problems at the expense of the poor?
- International currency funds have their point of view and if we do all the things they offer, this economy may simply collapse. But any proposal must take a balanced approach before it is followed.
If the IMF, for example, offers to increase the retirement age, let them see how long people live in Belarus. If the average life expectancy of men and women is 70 years and 85 years, then the retirement age can be increased. We need to reach this quality of life, the welfare of people, and then think about increasing the age.
As for the "tax manoeuvre," this is a short leash that Russia is constantly pulling for. Such things are just a prohibitive luxury. Conversation on an equal footing is not possible here. The stronger one imposes his conditions.
The trouble is that today the economy of Belarus is mainly focused on Russia. I respect the Russian people, but the economy should be focused not on one state, but on as many areas as possible to be sustainable. In my opinion, this is an axiom.