Polatsk Blogger, Tortured By Police, Summoned To IC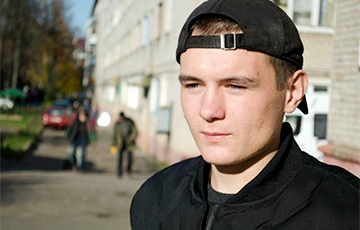 They were going to confiscate his phone.
"They were strangling professionally..."
On October 14th, 19-year-old blogger Raman Liaukouski from Polatsk published a video telling how he had been abused at the police station. They were strangling, insulting him and threatened to "take him to the woods" if he told anyone about it, Vitsebsk Viasna reports.
The next day the guy sent the corresponding statements to the Investigative Committee and the Prosecutor's Office. The Investigative Committee of the Republic of Belarus issued an order to appoint a forensic medical examination, but the guy refused to pass it. He states that there were no signs of strangulation on his neck: "They were strangling professionally..."
IC started the check-up on the blogger's application
On 16 October, the blogger was contacted by the IC by phone and asked to come to the Polatsk department of the Investigative Committee. Roman agreed.
"They talked to me in the right way, said that nothing had been done on my application yet and that the verification of the facts I was writing about in my application would last for 10 days. They said that they would inform me about the results of the check-up," - Raman Liaukouski said to journalists.
He also said that they wanted to confiscate his phone for examination in order to try to restore the video clip, deleted by the police. According to Raman, the investigators said that this video could serve as evidence that there had indeed been a conflict between the blogger and police officers. However, the Polatsk resident refused to give the phone away for 30 days, explaining that without the phone he is quite helpless without it.
Raman said that at the entrance to the investigative committee, he almost ran into police officer Aliaksandr Lapatsin, who the day before scared the guy that he could "piss him off", because he wouldn't tell anyone anything anyway. According to the Polatsk blogger, Lapatsin was summoned to the Investigative Committee following his statement.
Liaukouski says he did not sign any papers in the Investigation Committee.