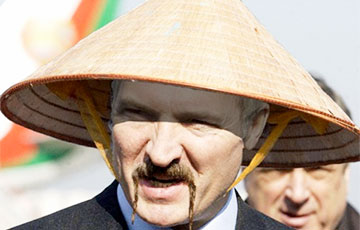 What is behind the Chinese loans for Belarus?
The scandalous bleached pulp mill near Svetlahorsk, which the Chinese company was building, received a permit of Gospromnadzor to operate. It happened despite apparent violations and protests of the city residents. Construction of the plant was accompanied by unpleasant incidents. Eventually, the Belarusian side broke the contract with China.
Last year, the contract with the Chinese contractor was terminated by the Dobrush Paper Mill. Modernization of both our cement plants by Chinese companies did not make them profitable.
Many Chinese investments end up costing for the authorities, but the official Minsk continues to take loans of China. This week it became known that our country is in the top 30 largest debtors of China.
Do such projects pose a threat to Belarus?
Charter97.org asked human rights activist Alena Maslyukova from Svetlahorsk for comments. Sge was actively involved in anti-anterprise campaign
Barys Zhaliba, Doctor of Economics, commented on the economic feasibility of Chinese investments for Belarus.
Alena Maslyukova: "There should be no such production in the 21st century!"
- What was your reaction to the decision of the authorities to allow the plant in Svetlahorsk to operate?
- Frankly speaking, our initiative group was not surprised. First of all, everyone knows that this plant was built by personal order of Lukashenka. It is clear that this person will never admit that it was a mistake and people were neglected. More than ten thousand signatures were collected! And now the authorities will try to launch the plant.
Before our conversation, I visited the plant. It stinks so hard that one cannot breathe there. You feel like some white dust lodges on your skin. What a smell!
We are against it to be launched. We want it closed.
- Recently, photos of the plant's night work appeared on the Internet. Violations lie on the surface. Why do the authorities turn a blind eye to this?
- I have seen these emissions and discharges of dirt, foam and water into the Berezina River many times. There are much smoke and vapour. The plant emits this unpleasant smell together with the clouds of smoke. No one controls it.
Right before our conversation, you faced an extraordinary situation. There was a journalist of Zelenaya Set, specialists of Ecodom and I was there too. Everyone can smell it, but we read the electronic board writes: "No harmful substances detected". Measurements were made in the morning and the south, and today the wind is western north.
Thus, plant management deceives people.
Yesterday evening there was a strong smell in the city, today it is observed in the area of the plant. You know there shouldn't be such production in the 21st century! It should be a "space plant" so that people could not even know that it exists.
For residents of Svetlahorsk not to feel this smell, not to see these emissions, this smoke. For people not to hear this rumble and squeak that comes from the mill. We receive complaints about the inability to sleep in the morning because of the noise.
- There was information that Austrians offered to build a first-class plant for a billion dollars. Why did the authorities choose the Chinese?
- Indeed, in 2012 it was planned that Angrid company would build it key ready. Austrians would have built it, but it was about money.
Belarus had no funds to build this plant. Therefore, they had to agree to "candy in a coloured wrapper" in the form of a Chinese proposal. It was a good idea to take a loan and then pay it back. In the end, it turned out that the company, which had never built such plants at that time, began construction.
We were told that China paid for it and Chinese workers would build it, but the Austrian technology and equipment would be used. Now we don't know whether the Austrian equipment is installed there, as representatives of Angrid company regularly come there at the invitation of the plant's management. They come and leave, and the plant is still not working.
As they say, buy nice or buy twice. The authorities borrowed more than 700 million dollars from China, and the Chinese began construction. They built it according to their norms and standards. We got this "miracle", which does not work.
Belarusians are rich, they can pay for everything. As of today, the authorities have invested more than $1 billion in this plant. And it gains no profit.
The worst thing is not that the Belarusians have lost money. Money comes with time. No money can buy health! Employees of the plant lose it just in a moment.
Why should people who live in the city and have become hostages of this production lose it? We do not understand it. What is the fault of children, who cannot play outdoors because of this smell? What is the fault of people who have lived all their lives in this city and love it very much? Why should we breathe this dirt?
Unfortunately, our country is, to put it mildly, a non-legal one. Alas, this state does not take people into account!
- Do you think Chinese technologies meet modern challenges and standards?
- The fact is that there is no trust in Chinese goods, to say nothing of what they are building. It is enough to see what they have built in Svetlahorsk, Dobrush, Velikiy Kamen in Minsk and Brest.
Was it hard to realise at once that the Chinese miss either standards or quality? They have one-day goods - you buy and throw away. As they say: "The man who can fool a Chinese is not born yet". They will fool anyone - the whole world, not only Belarusians.
- Today, ecology has become a uniting issue for people all over Belarus. Why is it so sound in Belarus?
- To date, a person, his health, his life, his comfort is of the greatest priority.
Unfortunately, such a poor and dependent country is simply turned into a dump by such enterprises. People know that this should not be like that.
This has initiated the ecological movement. Today it involves Homel, Brest and BelNPP. These are all painful points of Belarus, because people are first of all worried about their health, knowing that these authorities do not bring anything good to the Belarusians.
Economist Barys Zhaliba: "There is a huge expansion of Chinese capital"
- The Belarusian authorities are increasingly turning to China for loans. How do you feel about Chinese investments in Belarus?
- I can't answer exactly. In short, I have mixed feelings. On the one hand, we need to avoid total dependence on Russia in terms of borrowings. In this respect, China can be a great alternative. It makes positive sense. Also, China already uses quite modern technologies - these are quite good mobile phones, applications, and other Chinese equipment. The same vehicles that compete with such leaders in the car industry as Germany, South Korea, and Japan.
But there is another side of this cooperation - several projects implemented on Chinese loans have so far proved unsuccessful. In particular, all three cement plants have been reconstructed by Chinese specialists. Later on, as the practice has shown, these technologies are not modern and can be treated like yesterday's technologies in cement production. The Belarusian specialists did not think over the issues of marketing, sales, etc.
I also consider the cooperation with the Bellesbumprom unsuccessful. It involves woodworking, modernization of the pulp-and-paper plant in Svetlahorsk, which does not meet environmental requirements. We had to break ties with the Chinese contractor and finish it on our own. The paper mill in Dobrush is also a failure.
There are some failing projects, and we have to repay Chinese foreign currency loans on schedule. These numerous objects are not able to repay either the loans or interest.
It becomes the burden of the budget, taxpayers. We have great expectations about the Great Stone - the China-Belarus Industrial Park.
Of course, as we have developed cooperation with China, we need to cooperate in the western vector as well. Still, the most advanced technologies are in the EU countries, the USA, Canada, etc. Here we have nothing to show off.
But loans should be repaid. We lack the attraction of direct foreign investments when modern investors come and build a company from scratch or modernize it at their own expense. And these are not loans. Belarusian specialists will work on these projects. This is our weak point!
- Why does China share only old technologies with us?
- I wouldn't say that they are already old. Yes, these are not the technologies of tomorrow, even if only current ones. Still, China is a developing country. It cannot yet be considered a developed country. Hence the results. But we cooperate with those who come to us and do not set any special conditions.
China is a big country with the second economy in the world. We need to cooperate with China. There is no such danger in our relations with China as there is in the situation with Russia.
When we go deep in such state and corporate debts, which now turn into demands, it is worrying. Russia says: "No more subsidies and loans for you until we deepen our integration to the point when the thin line is broken and you become a part of the Russian Federation". There are no such threats from China today.
- Belarus ranked 30th in the last rating of Chinese debtors. Does it pose a threat to our country?
- Yeas, I read this article. The Chinese have enough debtors. First of all, these are Kyrgyzstan and Kazakhstan. Of course, there is an expansion of Chinese capital, both in the form of loans and, somewhere, in the form of direct investments.
Chinese loans are tied up. They are not issued with money, which one can use at one's own will. For example, to buy more modern projects. And it is issued with Chinese technologies, equipment, specialists, etc. But this is the policy of China all over the world.
Of course, this policy is favourable to it. It allows it to place orders for Chinese enterprises to produce some equipment for us.
But sometimes China does make concessions - in the same "Great Stone".
Anyway, it is necessary to repay loans to China according to the schedule. So far, we have been able to do this through refinancing. Some countries fail to do this - they are late and have to pay with whole objects.
But the danger of becoming a debtor to China is not the only one. It is possible to fail with repayment of international loans in any other country. Therefore, borrowers need to use these loans effectively all the time.
No arrears are acceptable. Restructuring is possible, as well as late crediting. This, of course, is a bad thing.
Let the Ministry of Finance calculate everything. Every borrower is in danger.