Zianon Pazniak: Belarus In Fact Boycotted 'Election'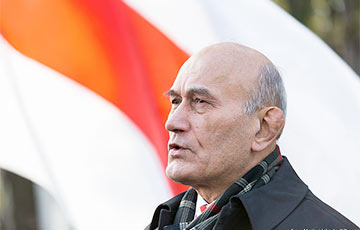 The people ignored the fake election, and expressed distrust to the Lukashenka regime.
This is said in the official statement of the Conservative Christian Party of the Belarusian Popular Front, signed by its leader Zianon Pazniak and his deputies. The text of the statement is published on the website of Belarusian Solidarity:
On the falsification of the election to the House of Representatives of the National Assembly of the Republic of Belarus, and it's non-recognition as real.
On November 17, 2019, the official regular "election" to the "House of Representatives" of the "National Assembly" of the Republic of Belarus was held.
According to observers, no more than 20 percent of voters came to polling stations for voting on November 17.
Falsification of the voter turnout and other violations were recorded by observers in hundreds of cases and officially documented. In some areas, the number of "voters" is overstated by 10 times.
As a result of the clear observation by the observers of voting violations, the regime authorities, police and the heads of election commissions began to massively remove official observers from the polling stations, deprive them of registration, and impede observation. Lukashenka publicly threatened an election observer with physical violence (this is a new aspect in the electoral barbarism of the existing regime).
During the five days before the "election", as always, the so-called early voting took place, which by essence is illegal and contrary to the Constitution of the country. It was recorded that people were obliged to go to the preliminary vote under pressure. Observers noted repeatedly overstated numbers of voters during the early vote. The regime authorities here have always falsified turnout and filed an official figure in the range of 25-30 percent. But this figure is false and overstated.
Thus, another imitation of voting at the "elections" to the "House of Representatives" ended with an unequivocally gross falsification of the voter turnout, the threat of reprisals against the election observers, and the announcement of false turnout results.
In reality, the "election" to the "House of Representatives" did not happen. The people ignored the fake elections and thereby expressed their distrust to the regime authorities of Lukashenka.
The results of this "election" cannot be recognized by the Belarusian society and the international community.
November 18, 2019
Leadership of the Conservative Christian Party of the Belarusian Popular Front:
Zianon Pazniak, Chairman
Yury Belenki, Acting Chairman in Belarus
Siarhei Papkou, Deputy Chairman