Freedom To Statkevich! Freedom To Seviarynets!
44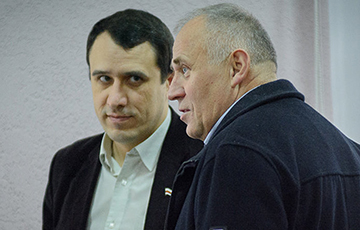 Lukashenka is in a panic.
The press service of the Belarusian National Congress has made a statement in connection with the latest events in Belarus, Charter97.org reports.
On the eve of the prayer for victims of the Stalinist repressions, which took place near the country's main Christian shrines in the center of Minsk on April 7, leaders and activists of the Belarusian opposition were abducted by the special services.
On April 9, Mikalai Statkevich was arrested for 15 days. The leader of the Belarusian National Congress was accused of calling for prayer. They tried to try him without witnesses, bringing him to court in secret from relatives and journalists.
On April 8, the Minsk district court sentenced Pavel Seviarynets to 15 days in prison. The politician was accused of preventing the destruction of crosses at the place of executions in Kurapaty.
Earlier, activists Maksim Viniarski, Volha Nikalaichyk and Nina Bahinskaya were abducted. For more than three days no one could get reliable information about their whereabouts, the date and time of the trials. Volha Nikalaichyk and Nina Bahinskaya were sentenced to large fines, and Maksim Viniarski was arrested for 13 days.
Lukashenka, following whose orders about a hundred crosses were destroyed at the burial site of victims of repression, knows what Belarusians think of him and feels that he is losing power. The crazy acts are another evidence of his uncertainty and confusion. Hundreds of people who have gathered to pray in the center of Minsk make the weak, aged ruler get into a panic. He is even afraid of his own decisions, so the demolition in Kurapaty began early in the morning, and the abducted politicians and activists were tried in secret.
But the dictator's greatest fear is caused by the upcoming elections and the leaders who have declared their participation in them – Mikalai Statkevich and Pavel Seviarynets. Their arrest is just a tinhorn sharper's attempt to get rid of the most dangerous opponents at least for a while.
The arrest of Mikalai Statkevich and Pavel Seviarynets is a test for all supporters of changes in Belarus. If we manage to defend our leaders, then we will be able to achieve freedom for ourselves and for our country.
Freedom to Belarusian political prisoners!
Freedom to Mikalai Statkevich!
Freedom to Pavel Seviarynets!