Belarusian Soldier's Mother: Army Covers Up Tracks
24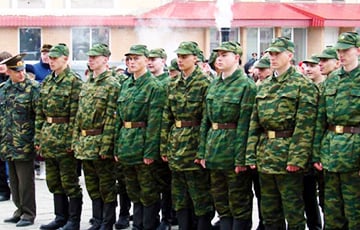 Natallia Makayed has talked to her son's comrades-in-arms.
The 21-year-old soldier got serious injuries as a result, as previously reported, a fall from the fourth floor of the barracks in a military unit in city microdistrict Uruchcha, Belsat reports.
Fell out from the fourth floor – that is all what is so far known about the causes of severe injuries of 21-year-old Andrei Makayed, who serves in the 120th Guards separate mechanized brigade. He is now in a medical coma, hу is in critical but stable condition. Part of his pancreas and spleen was removed. The soldier's mother, Natallia, has been able to talk with Andrei's comrades-in-arms.
"He told me: "Natallia, don't trust anyone, they are covering up tracks." And, he said, they will do everything to cover up their ass. He also told me about some cases of hazing, as well as about some moments that he would not be able to talk about in the presence of his leadership," – Natallia Makayed says.
As though he saw it in a crystal ball: the Investigation Committee is considering the version of a suicide attempt. This is almost a tradition – a similar verdict was also made in the high-profile case of Aliaksandr Korzhych's death in November 2017. Despite the fact that the soldier was found with a shirt on his head, hands and legs tied. Andrei Makayed's mother argues that the option of a suicide attempt is excluded.
"It all depends on how the officers, the command of the unit behave. Unfortunately, like any bureaucratic system, and the army is a big bureaucracy, they are more likely focused on hiding some kind of negative information than on solving problems in a fundamental way," – Belarus Security Blog head Andrei Parotnikau says.
Last year alone, there were three deaths of military conscripts under very vague circumstances. The country's leadership only demonstrates the intention to solve problems with incidents in the army.
"The Public Ministry's checks are prophylactic. They are focused not so much on the soldiers, but on the officers: to show that no one else will hide anything. But on the other hand, prosecutors come to a military unit once a month, and the problems appear every day. Therefore, there is a very big question about the ability of officers to maintain law, order and discipline in the departments properly," – Parotnikau adds.
And not only the global security of the country depends on the solution of this issue, but also the life and health of absolutely specific people.