20 Rallies In Two Days: Brest Activists Seek Conducting Mass Action Against Battery Plant
5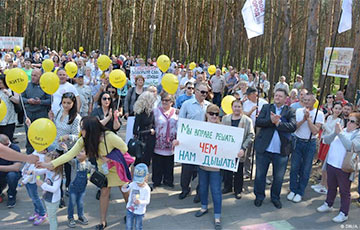 More notifications about holding rallies in early June have been submitted.
At the beginning of the week, human rights activist Raman Kislyak submitted to the Brest city executive committee 20 notifications about the planned rallies against the battery plant in the park of soldiers-internationalists: 10 rallies on June 1 and 2, reports Brestskaya Gazeta.
He also sent 3 applications for holding similar events in the village of Telmy, Brest region, to the district executive committee. Despite numerous prohibitions, the activist continues to press for a rally. For example, rallies planned in May in the park of internationalist soldiers were banned under the pretext of "anti-tick measures".
"For five days we were looking for tick hunters in the park. Alas, we did not see them there. It turns out quite badly: there were no anti-tick measures, and our meetings "Brest residents against lead" were once again disrupted. It is clear that this time they will find reasons to refuse. But the farther, the more difficult and complicated it is," Kislyak believes.
For more than a year, the residents of Brest and the region have been protesting against the appearance of a battery plant near the city. According to them, the enterprise is built with violations and will be harmful to the environment and human health. Starting from March 4 of last year, opponents of the plant building feed pigeons in the Lenin Square in Brest and thereby express their protest. Twice the silent protest actions turned into rallies - dozens of people were fined for participating in them. The only authorized rally against the plant was held in Brest over a year ago and gathered about 2,000 people.
According to official information, the IPower battery plant, which was originally planned to be launched in August last year, is now in the commissioning mode. Activists say that this is not commissioning, but a full-fledged production process. Since May 3, the 24/7 watch has been established near the enterprise - the fighters for the environment take turns next to the plant and take photos and videos of what they consider to be violations. Then the information goes to the relevant authorities and services.
Authorities say the plant is safe, adding that in case of violations the enterprise will be closed.