Svetlana Alexievich: It Is Necessary To Support Resistance To Totalitarianism
27
27.05.2019, 12:07

261,926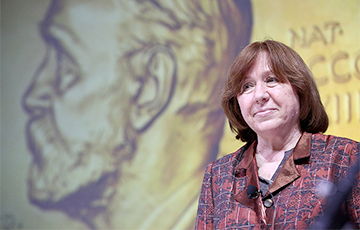 The Nobel Prize winner has expressed solidarity with the Charter97.org website.
"I think it is a big mistake that the Charter 97 website has been left without the support it had in previous years. And it happens at a most dangerous time. Earlier it could be called an internal matter, but now it is not an internal matter. It is quite possible that Belarus may disappear in Russia. If you are "eaten up," it will become absolutely clear to everyone that they can do anything with independent editions.
You bring independent information, and it is very important today, because more and more people are falling into despair and surrender, there are fewer ways out, because the authorities are inventing economic murdering. I am surprised that the authorities have been able to prove to our Western partners that everything is "normal" in Belarus, that we have "stable" economy, that Lukashenka is "not a worst dictator." And this European short-sightedness surprises me. I understand that they have no time for us now, they have a lot of problems of their own. But we are, as banal as it sounds, in the same boat, we must understand that we are connected with each other.
And it looks a little bit like betrayal, but I hope it's just a European rationalism. There are a lot of examples in history when Europe solved problems at the expense of something, but then it ended badly for it. You can't separate that. If there is freedom somewhere, if there is resistance to totalitarianism and an attempt to fight for freedom, it seems to me that everyone should support it. And that was what Europe and America used to be strong about. And I am very disappointed that their problems have overshadowed our problems. But the problems are common," – famous Belarusian writer, Nobel Prize winner in literature Svetlana Alexievich said.
It will be recalled that on September 3, 2018, editor-in-chief of Charter-97 Natallia Radzina announced the threat to informational resource cause by drastic reduction in financing and called readers for solidarity.