Law-Enforcers Raid '5th Element' Network Operator
15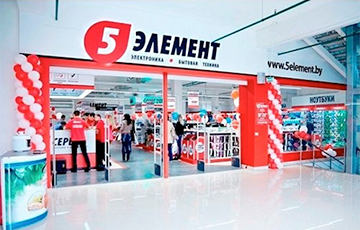 A mask show took place in the company's office.
Today, the police raided the head office of the "Patio" company, which operates a network of shops of home appliances and electronics "5th Element". Tut.by was informed about this by the sources and confirmed by the company itself.
"There was a fuss in the office since the morning. The mask show happened there. Few people realized what was happening. Security officials are still in the office," said the source.
"So far, nothing extraordinary has happened. No one is detained, no charges are filed, they confiscated documents on certain counterparties for verification. The company's office and all the shops are operating normally," they explained in the "Patio".
It has not been possible yet to obtain a prompt comment in the power department.
It is said that in the history of "Patio" there are examples where it had to reflect the claims of regulatory authorities. In December 2014 the Ministry of Trade has suspended the work of 3 stores "5th Element" because of violation of the legislation on trade. One of the key claim was the insufficient number of Belarusian-made goods.
The then-assistant of the president, and now the first deputy head of Lukashenka's Administration Maxim Ryzhankou called the actions of the Ministry of Trade "5th Element" clumsy. "Everyone is now in a difficult situation, you know that. But instead of solving the issues in the dialogue mode, we are swinging a baton," Ryzhankou said.
"5th Element" is a partner of the Football, Tennis and Basketball Federations. One of the founders of the retailer Andrei Balabin (number 68 in the top 200 most successful and influential businessmen on the version of "Ejednevnik") is the Deputy of Ryzhankou in the Basketball Federation. The network currently has more than 50 shops of home appliances and electronics. Balabin is unavailable for comments.