Judicial Conveyor Against Defenders Of Independence Continued In Belarus
9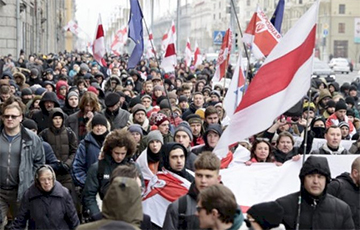 To date, 345 days of arrest and 129 thousand rubles of fine have been awarded.
In December 2019 and January 2020, more than 170 trials of activists for participating in the rallies on December 7, 8, 20 and 21 against "deep integration" with Russia were held in Belarus, the website of the Human Rights Centre Viasna reports.
The trials are still in progress.
On January 29, the total amount of fines received by the rally participants was Br129.087.5 (about $60.7 thousand).
13 people were sentenced to a total of 345 days of arrest.
The trials for the rallies continue:
On January 29, 30 and 31, February 3, 4 and 5, in the Partyzanski district court in Minsk - against Viachaslau Siuchyk, for participating in the rallies on different days;
On January 30, another trial against Tatsiana Seviarynets will be held in the court of Chyhunachny district of Vitsebsk;
On January 31, the trial of Mikalai Maslouski will resume in the court of the Frunzenski district of Minsk;
On February 10, Ryhor Kastusiou will be tried in the court of Shklou district;
Also, according to human rights activists, Mikalai Statkevich and Ales Abramovich (the police drew up reports on them for the rally on December 20 in Minsk), as well as Alena Yanushkouskaya (for the rally on December 29 in Vitsebsk) are waiting for the summons to court.