Dzyady-2020: We Remember and Will Not Forgive!
10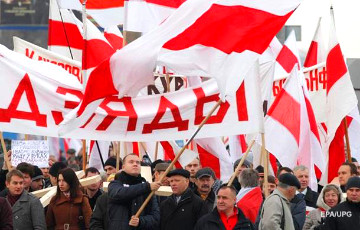 Minsk, 1 November, at 2 pm.
Independent telegram channels addressed the Belarusians on the eve of the traditional procession on Dzyady holiday:
- On the first of November we celebrate Dzyady, the day when we commemorate the deceased loved ones. Traditionally, Belarusians come to the Kurapaty tract to commemorate the victims of political repressions.
For many years, the current regime has been trying to destroy the memory of the people. They demolish crosses, build a tavern on the territory of the memorial, and try to turn Kurapaty into a sterile place where nothing can remind of the pain that the people experienced. They are afraid of the memory of the repressed because they are heirs to the beasts that executed the innocents.
But we remember it because we are Belarusians - proud and brave nation, which fights against the evil that has occupied our land until we win! And we will never forgive!
The time has come for us to walk the road to Kurapaty and recall that we must fight not to let it happen ever again.
Minsk. November 1. March "We remember and will not forgive!" starts at 2 pm. We gather at the metro station Park Chelyuskintsev (near the clock factory).
THE ROUTE: Metro Park Chelyuskintsev - Independence Avenue - Kalinovskogo - Karbysheva - Gamarnika - Miroshnichenko - Kurapaty tract.