Rally in Memory of Raman Bandarenka Was Held in San Francisco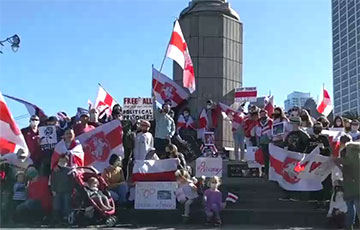 A memorial to the Hero of Belarus appeared in the American city.
A rally in memory of Hero of Belarus Raman Bandarenka was held in San Francisco. This was reported by the Charter-97 telegram channel.
Let us remind you that on the evening of November 11, Raman Bandarenka was severely beaten by Lukashists in the courtyard of his own house. Later it became known that he was taken to the Central District Department of Internal Affairs. After midnight, Raman was brought in a coma to the intensive care unit of an emergency hospital. On the evening of November 12, Raman died, and yesterday he was buried.
He was 31 years old; he was the only son of his parents.
This death once again stirred up the Belarusians. Thousands of people took to the streets in the capital and regional cities, as well as around the world.