Marholin: Lukashenka Intended To Cynically Check Whether Russian Vaccine Would Work On Eismant
27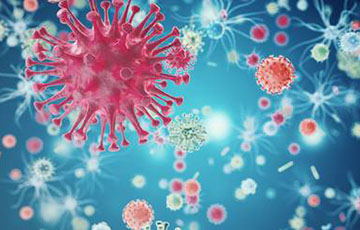 Why did the usurper make his Press-Secretary sit by the sick "Ihar Piatrovich"?
Fear and rightlessness reign in the closest circle of Lukashenka, as member of the UCP political board Leu Marholin told the Belarusian Partisan when commenting upon the latest leak of the telephone conversation of Lukashenka's Press-Secretary and her assistant.
– What conclusions have you made for yourself about Lukashenka's entourage from the leaked telephone conversation of "Eismant" and "Latyshonak"?
– Probably it has never been a secret that all of them are absolutely rightless, sitting there as quiet as mice, fearing to say a word.
– Lukashenka has been exposed to the coronavirus in the past, so he probably is not afraid so far - do you agree with such opinion, considering your personal experience of life after COVID-19?
– The antibodies preserve for 3-4 months, and then it is necessary to repeat the test, just to be extra safe. My therapeutist suffered from the virus earlier than me - back in May. She thought that her antibodies have been gone, but went through a blood test in four months and a half, and the test showed she still had antibodies.
The bad thing is, such tests for ordinary people only show the presence of antibodies, not their numbers.
– But why inviting the sick "Ihar Piatrovich", by whom it is easy to recognize the head of the administration, to the meeting, thus risking the health of the others?
– I think that if "Ihar Piatrovich" called and took a sick-leave, saying that he was ill, no one would have pulled him to this meeting by force. But many there are so intimidated that they just don't dare do such things. "Eismant" said, meanwhile: the boss hasn't called her for three days and she's been on tenterhooks ever since. But still, she didn't go to work when she fell ill.
"Ihar Piatrovich" didn't dare to miss work - and this is already his personal feature.
– Why did Lukashenka place "Natallia Mikalaeuna" near the sick "Ihar Piatrovich"?
– I think this is because he knew "Eismant" had been vaccinated, so he wanted to check the efficiency of the Russian vaccine.
The logic could be as follows: "Well, you got yourself vaccinated, then go and sit here, and we'll see what will happen to you."
However, every cloud has a silver lining. If the Russian vaccine appears in broad access for the population in some 2-3 months, we will know its properties.
– Lukashenka suffered from the coronavirus infection in summer, but he hasn't taken any precautionary measures, even with regard to his subordinates. As a result, the following people got infected with COVID-19: Kachanava (she confessed this in Navapolatsk), "Ihar Piatrovich", and, probably, "Natallia Mikalaeuna". Will it affect the attitude of the entourage towards Lukashenka?
– Do you think his subordinates trust him? I think there is nothing but fear. The only thing that seems to bother them is: oh, what if he thinks I've ditched this all.
They understand that Lukashenka so far has enough opportunities to finish them. So, they should either run for their lives, or stay where they are, doing their best not to give any reason for discontent. Such concepts like trust, respect are out of the question in Lukashenka's closest circle.
– Why do people want to join his team then?
– I don't think they do. On the top, even if there is a personnel reshuffle, then among the very limited circle of people. I would like to turn your attention to one moment of the leaked conversation: someone was first staying at home with a sore throat, then he allegedly got COVID-19, and stayed at home again. It seems that people are trying to find an excuse not to appear at Lukashenka's meetings.
Nobody dreams of working in the Lukashenka Administration now, and this refers not only to his Administration: there are virtually no people willing to work in the district administrations either.