Andrei Sannikov: Even Lukashenka's Narrow Inner Circle No Longer Needs Him
36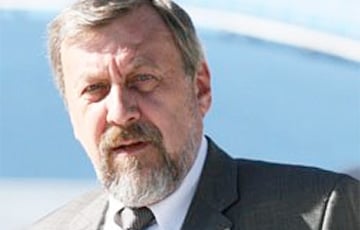 This year may be a turning point for Belarus.
There is no sovereignty of Belarus that is being protected by Lukashenka. He only defends his regime. This was stated by leader of the European Belarus civil campaign Andrei Sannikov on the Feigin live Youtube channel, where a discussion entitled "Belarus entrapped?" was held.
Also, the discussion was attended by Russian public figure and blogger Mark Feigin, political scientist and publicist Andrei Piontkovsky, and economic expert Mikhail Krutikhin.
The leader of the European Belarus civil campaign noted that the Belarusian dictator began flirting with Russia back in 1996:
- Now some new remarks may have appeared in the Kremlin-Lukashenka Theater, but, thank God, we have Google that doesn't forget anything.
In 1996, the weak Yeltsin rushed to Lukashenka for help, saying, let's demonstrate the unification of the two states. He arrived in Brest on June 22 to be reelected as president of Russia. Since then, Lukashenka's ambitions to climb onto the Kremlin throne began.
Yes, Putin demolished them, but the game didn't change. With the emergence of Putin, Lukashenka started declaring that he would never surrender Belarus to Russia: "We are brothers, we are friends, we have a "union agreement", but I will never allow swallowing Belarus."
All that has changed is the heating turned slightly on. Because Lukashenka has no money at all. It is necessary to raise the heating in order to get money for it, in order to get Pompeo or Linkevicius, or the Swiss Foreign Minister for it, to play the same rotten game with the West again, which can then be sold to Russia.
It is clear that the Kremlin no longer buys this game, but is forced to take into account the social background around all this.
Andrei Sannikov believes that the takeover of Belarus by Russia with an aim to solve Putin's problems with extending presidential powers is not the one and only scenario:
- This is one of the plans that exist in the Kremlin. The pressure on Belarus will continue. Today is the best time for such pressure, because the same criminals remain at power both in Belarus and Moscow, so they can find some kind of scheme in order to agree. But this is not the only plan for extending Putin's powers and term in the Kremlin. Lukashenka and Putin are exactly the same. They will hold on to the last for their regimes.
The leader of the European Belarus civil campaign believes that, given the experience of Ukraine, Russia is more wary of the idea to capture Belarus by force:
- Public opinion in Belarus is much sharper against the Kremlin and against unification with Russia than in Ukraine. There is no Donbas in Belarus, there is no pronounced Eastern Belarus. Many believe that we will be friends with Russia, but in no case should we unite. All opinion polls, when possible, show complete rejection of the association. Therefore, Putin does not want to aggressively push this plan. Lukashenka, on the other hand, is using the same scenario, trying to play an offended dictator getting no help from fraternal Russia.
I have not changed my opinion. Lukashenka himself confirmed that when the Russian media started bullying him, he said: "Putin asked me to improve relations with the Americans. This is what I'm doing at the request of Putin." He is absolutely honest when it comes to the motives of his behavior, when the moment of the informational occasion has already passed. Lukashenka then tells everything that they demanded from him in the Kremlin, with resentment. According to Belarusian and foreign analysts, Lukashenka is the Russian world in Belarus, its most reliable stronghold.
Andrei Sannikov does not believe in the so-called mopping up of pro-Russian security forces in Belarus:
- The security forces remain unchanged, no replacements have been carried out; nothing is happening there. As before, Moscow maintains its position in the law-enforcement agencies. Once, in order to play along with the Kremlin, Lukashenka replaced all the remaining patriotic-minded leaders (though scoundrels) in the special services for pro-Moscow staff. All this remained, especially in the army. These structures have a very serious communication with Moscow. There are also Moscow agents.
Lukashenka also said before his meeting with Putin about "how could you bug us like this, and not give me my oil margin, when we already have a military alliance, when we have one border guard service, when our special services work smoothly, when we even agreed on the list of the travel banned." The force component of Belarus and Russia is harmonized and coordinated perfectly. This is a huge danger.
The leader of the European Belarus civil campaign believes that Lukashenka is not a guarantor of independence of Belarus, and the current regime is the culprit of the current situation in the country.
- I do not like what is happening around Belarus. An incomprehensible Washington Post editorial appears, which says that somewhere it is necessary to revise the policy towards Belarus. When the Americans say that it is necessary to protect the sovereignty of Lukashenka, but do not forget about human rights, I understand that they will forget about human rights.
Speaking of upcoming so-called elections in Belarus, Andrei Sannikov criticizes those who say that the Belarusian opposition is weak and has no chance:
- In 2010, when I participated in the elections, the opposition defeated Lukashenka outright, it was even physically visible. Therefore, he freaked out on the first day and brought down all his batons on us, massacred the protests, and threw everyone into prisons.
Today, this year, the situation for Lukashenka is much worse. The economy is simply a disaster. As for the society, there hatred for Lukashenka has just surpassed all possible limits. This is all economically determined, because life has deteriorated so much, such stupid laws are adopted - against parasitism, even against schoolchildren.
The leader of the European Belarus civil campaign believes that this year could be a turning point for Belarus:
- Today we need people who understand that it is easier to achieve change in Belarus today than even in Ukraine and Russia. We need help with this, because I have always believed that Belarus is the key territory for any processes in the former USSR. If you take history - this has been confirmed in many ways. But the bottom line is that in a smaller country, it's easier to make progress after the situation changes.
Belarus deserves attention. Today we have attention, but we don't have an understanding of what to do.
Also, Andrei Sannikov urged not make forecasts of future relations between the Kremlin and Lukashenka, but to think how to facilitate changes in Belarus today:
- Well, Putin hates Lukashenka, Lukashenka hates Putin, but for the sake of mutual interests they will find agreement.
This year, opportunities will be created in Belarus itself. I can promise you that there will be a mobilization of the civil society, there will be protests. I repeat that such a difficult economic situation has unfolded for the first time ever. Lukashenka is not a guarantor today. He cannot ensure any guarantees for either his criminals who profit from the regime, or the security forces, or pensioners. Everyone's life is getting worse. Why do they need him? And above all, even his inner narrow circle does not need him. Therefore, social tension will increase, there will be a noticeable political campaign, and there will be protests. I would like this to be noted, otherwise we will lose our way in broad daylight. And there are opportunities for change in Belarus today.