What Did Lukashenka Promised To Russia In exchange For All?
54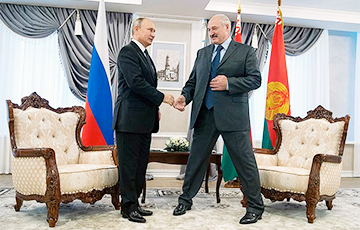 The backstage part of the negotiations remains unknown.
Aliaksandr Lukashenka and Vladimir Putin discussed oil supplies to Belarus. This happened after the visit of the head of Rosneft Igor Sechin to Minsk, and the appearance of reports about the purchase by the Belarusian side of two more oil tankers through the Lithuanian port.
According to Lukashenka, Putin expressed his readiness to compensate for the revenues from export duties, lost due to tax maneuvers.
However, Kremlin spokesman Dmitry Peskov said the Russian authorities would not compensate for losses associated with the tax maneuver from the budget.
Then it became known about the formula proposed by Russia, according to which the bonuses on oil prices will decrease by $ 2 each year.
Political observer Aliaksandr Klaskouski commented on the situation with the possible agreements between the two sides for the Solidarity website.
Unsteady compromise
- Lukashenka seems to be satisfied with this decision. But this is a very unsteady compromise. I would like to draw attention to the fact that we are talking about the outlines of an agreement, only for this year. December 31 will come, and, as Lukashenka says, we will have to kneel again. There is no guarantee that the same situation, the same conflict will not repeat, the political observer warns.
What remains behind the scenes of negotiations
The expert drew attention to an important moment in today's story:
- We don't hear a word about the "road maps" in this conversation. We do not know under what conditions this compromise is reached. Maybe Lukashenka promised something in return: either regarding the "road maps", or sales of some assets. To sell bigger percentage of the assets of the Mazyr refinery to Rosneft, for instance. In other words, the backstage part of this arrangement remains unknown.
Aliaksandr Klaskouski recalled that the main contradictions between the allies have not yet been resolved. The question of "road maps" still hangs in the air, as well as the vision of how to build relations between the countries further on:
- For Lukashenka, integration in the first place has always meant the receipt of cheap energy from Russia. And for Moscow, the priority was the desire to tie an ally to themselves stronger.
And this knot has not yet been untied. The tax maneuver will continue. It remains unclear by now whether Russia will agree to the promised creation of a single fuel market by 2025. Therefore, with a high degree of probability we can expect a new conflict between the authorities of the two countries.