Lukashenka Jigs Like a Hooked Fish, Economist Says
75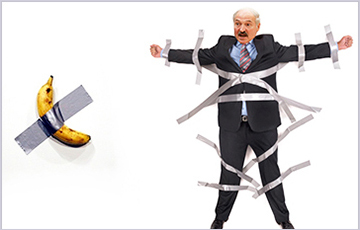 Belarus may face problems not with gasoline alone.
Problems with gasoline have begun in Belarus.
February 4, limits on fuel purchases were introduced at several Lukoil regional petrol stations. For example, a limit on the purchase of diesel fuel up to 100 litres per one person was introduced at filling station № 21 of Lukoil in Brest. The limit applied to everything - both car and freight transport. "There are problems with the fuel, it's not enough for all filling stations," explained at the filling station. Similar restrictions were imposed at filling Lukoil station № 22 in Brest, as well as at filling station № 17 in Baranavichy.
Although the supply was restored 24 hours later and the limits were removed, a small-scale information war with mutual accusations of provocations between the Russian Lukoil and Belneftekhim was held. What does it mean against the background of the large-scale oil and gas war between the official Minsk and the Kremlin?
Economist, head of the analytical centre Strategy Leanid Zaika commented on the situation for Charter97.org.
- In your opinion, what did these "first fruits" with limited fuel sales mean? Could it be a prerequisite for more serious events?
- Now entire Europe is filled with gasoline, there is such a great oversupply. The Chinese do not buy, they get sick. There is a general decline in production, so there is enough gasoline. The cheapest gas of 70 cents is in the USA. If Lukashenka decides to deliver it from there, it will be expensive.
How can the situation develop? You know, it's perfect for those who trade in gasoline. Fruitful days are coming for them. There's no good reason for a deficit right now. The same Lukoil turned to Mozyr and Navapolatsk for gasoline. It can bring its cheap gasoline from Russia as well. By the way, it is cheaper in Russia.
- Belneftekhim accused Lukoil of provocation. In your opinion, does it relate to the oil and gas war between Minsk and Moscow?
- I would not use the word "war" to describe the relations between Minsk and Moscow. This is a personal conflict between a collective farm director and a KGB major.
Belarus has nothing to do with this because oil refining is carried out by wealthy companies that are in power, controlled by the Kremlin. Their headquarters here resides on Karl Marx Street. This is the money of those who made it to the oil pipe.
Belarus, our problems, 100 litres of gasoline, shortages are a manipulation to make people think that someone infringes on their gasoline. Especially, I remember the situation that happened a few years ago: Putin solemnly said at the Pioneer Party in the Kremlin that oil would be sold at Russian prices (7 million tons) for the residents of Belarus. Guys, you need 7 million for domestic consumption. You can buy it at domestic prices of Smolensk or Kaliningrad. It is not applied to that you refine and sell then... We even sold oil to Germany worth a billion dollars a year. It is about billions and millions of dollars for big bosses.
Second point: 7 million tons would be enough for us. It is not a problem to get 600 thousand tons per month. But things Belneftekhim claims are a lie.
- On the contrary, Lukoil says that Beleneftekhim did not give him gasoline for retail sale. Do you think that the Russian company is being forced out of our market?
- Of course, it's a struggle between these guys. Someone's got Lukoil filling stations. Vagit Alekperov is there, everyone who loves oil lakes is there, so they fight, and people think that it is a "struggle for sovereignty". There's nothing funnier than these manipulations.
- What other levers of pressure can be used on the Belarusian consumer, if all these are echoes of the conflict, as you said, the head of the collective farm and a KGB major?
- I had to do such an analysis at the request of special people. So, the most damaging option is to refuse to buy Belarusian milk. Frustration will follow. By the way, I want to remind people under Lukashenka say that a litre of gasoline costs as much as a litre of milk. Therefore, guys and Comrade Aliaksandr Ryhoravich, take care of cows if you want some income. One cow can produce 200 tons of milk a year. We will earn more than with gasoline, but everyone hushes it up.
Was Pompeo right to wonder whether we're so silly? We can give you oil at competitive prices. But will you deliver it from the States? Then there's something wrong with you.
If one looks at the situation, it is easier for Belarusians to make vertical integration with major Russian oil companies: from oil production to its sale as an oil product. After all, nobody says that these two plants built in Belarus made any sense for the country. These refineries were supposed to provide the Soviet troops successfully marching to Paris, Barcelona, and Berlin with solarium, diesel fuel, gasoline. That was the goal. Belarus did not need them.
One should not deal with oil, but at least make an electric bike. By the way, any rise in oil prices and lack of gasoline drives us into electric cars manufacturing.
My beloved Georgians have already built a factory and produce 40 thousand electric cars. WE either have to ask Musk to give or construct a few more cars, just like they did near Berlin.
The fools are arguing over oil. The oil era is coming to an end, guys. The fool is one who argues more about oil. It's fair to start producing electric transport.
- What are your forecasts for the meeting between Putin and Lukashenka on February 7?
- The meeting will end with dinner, which is a good sign because there is no sense for the Russians now to generate a negative among the Belarusian electorate. It is a major political task to prevent Russia from having one country-friend left - Belarus. I think that placation will follow.
Second point: Putin is not particularly trying hard in this matter anymore. He is changing the Constitution, developing other mechanisms. He will not let Lukashenka approach the Russian crown. Let him jig like a hooked fish. "Major" shows: you might have produced anything - a cell phone or good furniture.
- Will Lukashenka receive compensation for "dirty" oil from Russia?
- No. Compensation is not dirty oil, it was a special game. As soon as Lukashenka said that he would repair Druzhba pipeline to do the dirt on Russians, the Russians poured chlorine in the pipe. This chlorine cost only $16 thousand. It was a direct order not to move.
Lukashenka may intimidate that he will block off the oil pipelines, but he is told: we have zeroed all your plants, and you could not produce anything with this chlorine. What compensation? It's the reckoning for foolishness. He had a good lesson with dirty oil.
A billion does not play any role here. Now even Ukraine has a reduced gas price by 25%, and Gazprom has been obliged to pay 3 billion - this is nothing for the Russians. Putin will have 5 billion less, what a trivial thing.
- What other mechanisms does the Kremlin have to influence the official Minsk?
- There are many of them. Starting with the fact that information about the crimes committed by the regime of Belarus will be gradually thrown in.
The second point is that the Belarusian export of food products will be suspended. But I do not call things happening an oil and gas war, it is rather the lesson of the KGB officers for the Belarusian agrarian sector. KGB Major will defeat the collective farm director anyway. Now it is served as a "struggle for sovereignty"...
There is a political struggle against the background of growing idiocy on both sides. It's a Nanai struggle, where one man wears two suits. The oil will be processed at the Belarusian refineries. Russia has not built a single oil refinery since the late 80s. They stay calm. They have two Belarusian refineries to process oil and count money.
These guys will fix everything because their beloved women need silicone prostheses; they need to buy Porsche and airplanes. They will share the flows again, just like it happened to sugar. Although I wondered 10-15 years ago why they sold sugar to Estonia at 29 cents, to Russia at 49 and to Belarus at 79. I told that, but everybody made a poker face. It will last until someone makes them get off.