Pavel Seviarynets: We Are Ready To Talk To Russia From Belarusian Standpoints
29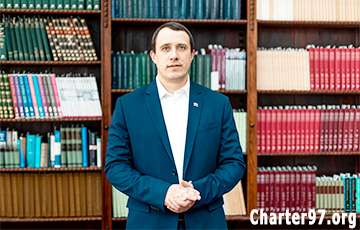 Lukashenka must leave.
Leader of the Belarusian Christian Democracy Party Pavel Seviarynets became the hero of the new program Studio X97 by site Charter97.org. The conversation with the politician was recorded before the coronavirus epidemic, therefore, it mainly concerned the political and economic situation in Belarus, but this does not make it any less interesting. The host of the program is Yauhen Klimakin.
- Pavel, you have decided to run for the President of Belarus. I believe that the most important question here is how to tear off the state handle bar the man who has simply conjoined it for 26 years?
- One person alone cannot do this. This can be done by the people. And the strategy that we propose for this campaign is massive peaceful protests, this is the way out for the Belarusian people. For the people have become sick and tired of Lukashenka for these 26 years. Over 26 years, the Belarusian nation has decreased by 850 thousand people. We are among the world leaders with regard to suicides, per capita alcoholism, women in prisons, Chernobyl, and in the end it turns out that Belarusians simply have no prospects. We are leaving to work in Europe, in Russia, the youth does not remain in Belarus. That's enough! Lukashenka must leave.
- So, you become President. Name three decisions you will take first.
- The first decision is to release all political prisoners, the second - to abolish all those ridiculous decrees, illegal ordinances, which ruined the life of Belarusians throughout these 26 years.
- What is the correlation between stupid and non-stupid decrees?
- Stupid ones make the vast majority. Most Belarusians realize that everything is done to create opportunities to get into their pockets, or put one more loop on their neck. Therefore, it is necessary to abolish decrees, ordinances, agreements, also international, which Lukashenka made as a non-legitimate President. None of the elections after 1996 were recognized by the international community, so cancel everything.
And in the end, return the Constitution of 1994. This is the latest legally important document for Belarus, on the basis of which we will hold a constitutional reform.
- In your opinion, what should be the destiny of the people who helped the regime sustain with all possible effort? For example, Mrs. Yarmoshyna - what should happen to her?
- Those who participated in crimes, repressions, or illegal retention of power, should answer before the law. There is the Criminal Code, there must be an independent court. Everything should be resolved in court, no massacres, no overall decisions like "behead all of them" - all cases will be considered individually. Because we don't want our country to live in lawlessness, like now, but to follow the law.
- I recalled Yarmoshyna. How long has she held her post? 25 years or so?
- About this, since 1996, it will be 25 years soon.
- Herein, international organizations in the European democratic countries say that elections are rigged, while Mrs. Yarmoshyna continues to give the needed figures. Shouldn't such a person be in jail for doing something like this for so many years?
- Of course, and even the current legislation provides for the punishment for falsifying elections - from two to five years in prison. If all this is done regularly and by a group of people, it could be even worse. Therefore, Mrs. Yarmoshyna, of course, needs to think about whether to activate her paranormal abilities now in 2020, or it would be better to leave. Better to get sick or retire. We are calling her to do this, and we will demand her resignation, and the resignation of all election riggers.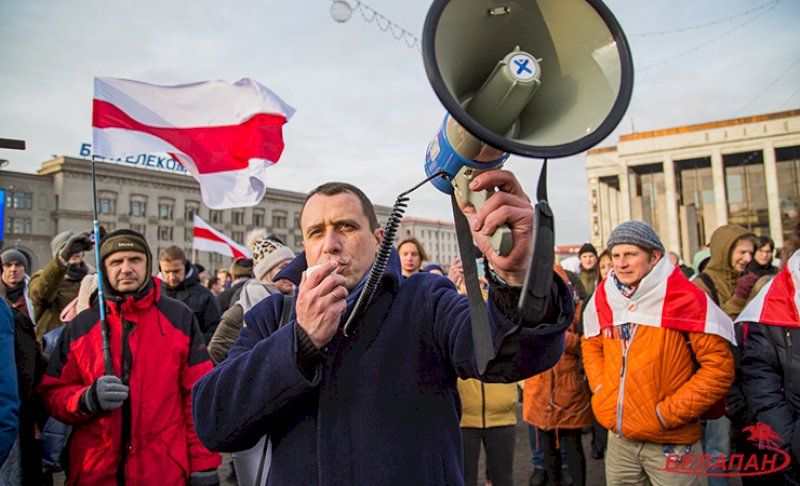 - Pavel, how many years have you spent in jail, on aggregate? Six, am I right?
- 6 years.
- How did the prisoners treat you? I heard they usually have normal attitude to political prisoners.
- Yes, they have normal attitude to political prisoners, because the latter, first, stand against the authorities, and secondly, political prisoners are suffering for the common cause. If someone is suffering for own misdemeanors (stole, drank, got to jail, as they say), the attitude is indifferent. And if a person is suffering for the common cause, the idea, the people - prisoners usually respect this.
- Is there a situation, a conversation, which happened precisely in jail, that you still recall?
- I still recall how Chief Engineer at the Tractor Plant confessed to me that he had falsified elections.
- What year it was?
- 2010-2011. We were in jail after the Square action, and there started a conversation about the falsification of elections. So I was telling about the five ways elections are falsified in Belarus, when Aliaksandr Aliakseyevich told from the upper plank bed: "There is one more, let me tell you." He went down. I asked how come he knew about it. "I used to head an election commission, the district one, not precinct, it's 18 000 voters at the Tractor Plant," he said.
I asked how they did it. "We monitored who doesn't go to elections, local and parliamentary ones, and checked those voters, assuming they would not come to the third ones, too. Then we organized teachers, they put signatures and filled the ballots for us. We threw the ballots in on Saturday, and opened the ballot box on Sunday - everything went smoothly," he told.
So I was like: "Aliaksandr Aliakseyevich, why do you vilify this power, if you had put it there by yourself? And he told me the words I will never forget. He said, "Pavel, I did it in a human way, only 20%, while my neighbors at the Automobile Plant wrote 40%."
- What about the attitude to the authorities of the prison staff? Have you had such sincere conversation with them? What do they think of what if going on in the country?
- Of course, there are people who understand everything even there. One of them just recently, a few months ago, came to Kurapaty with the identity of a police officer and showed it to the riot police, who had come to deal with Kurapaty's defenders. Mikhail Hramyka. He was fired. He had only a year or two to retirement. Now they are not paying him a pension, but the people are helping, several times they raised money for him. He's great, he is out of the game because he was talking to us. When Statkevich or I, or Niakliayeu, or Dashkevich got into detention centers in the Akrestsin Street, he talked to us through the feeder.
We see that a person is suffering working at such post. At some point, he decided to commit an act. The wife, of course, was in shock, did not understand, cried, and so on. He served another 15 days of arrest for appearing in a place where an unauthorized rally was taking place. Of course, there was a huge respect. He gave interviews, people supported him. These people are in the police and among the convoys. I came across those who said: "I respect you, guys, well done."
- How have the six years in jail changed you?
- Prison grinds a man. You can break, but if not, then you become stronger. I would not want to go to jail, but I know very well that if God conducts this test, you will come out better than you were. As soon as you go to prison, you immediately realize what you did wrong while free. You see the whole world through this prism: here you didn't say a good word, here you were cold, you were annoyed, you didn't do what you should, you thought more about yourself than about your neighbor or about the country. Remembering all this, you begin to cleanse yourself. You leave almost like new. I would not want to go there again, I repeat, but the experience ...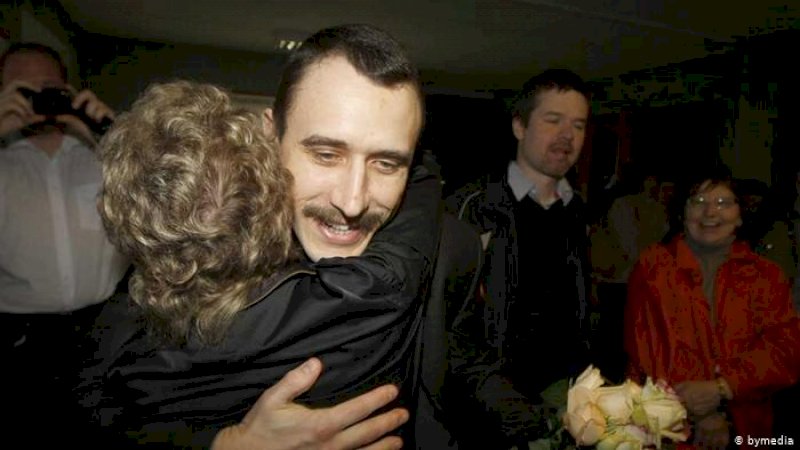 - Where further?
- We'll see, never refuse a prison cell or a beggar's bowl. But I think we will change the situation in Belarus, and people won't have to go to jail to liberate Belarus.
- I was lucky in my life to record interviews with some dissidents of Soviet times, political prisoners. I have heard from many that they live with guilt towards their parents, because when they were jailed, their parents paid for it with their health and nerves. Do you have such remorse before your parents who couldn't help but get nervous?
- I have this deep in my heart, but I know for sure that my parents are proud that their son stood up, told the truth, and maybe suffered for it. This is the right thing, as the solidarity of the people in Belarus with my mother, my father, while I am in prison, compensates for it all.
- Have the authorities ever tried to buy you?
- There was a case in 1998 after my first time in prison, my father's acquaintance came in, who was connected with the top, and said: "Pavel, what if you get an offer to head the Belarusian Patriotic Youth Union?" I said that if I head the BPSM, it will be an organization under the white-red-white flag and this will be an organization in which love for Belarus will be preached. He said: "I see, consider that you and I did not have this conversation."
- When was the oppositionist Pavel Seviarynets "born"?
- It was early in 1994, when Zianon Pazniak arrived to the city of Vitsebsk, where I lived with my family then.
- How old were you? 15-16?
- I was a 17-year-old guy in the full hall of our drama theater. My father was a journalist and said: "Come on, look at Pazniak." I said: "Haven't I seen a fascist, or what?" This conventional wisdom about Pazniak as a nationalist and fascist then existed in Vitsebsk, the city is mainly Russian-speaking. "No, let's go look, make an impression," said father.
Four hours of Pazniak's speech - and I get up from my chair to clap while standing. My father pulled me, and I said: no, this is the leader of the Belarusian nation.
- Have you told this story to Pazniak?
- No.
- Maybe, you should.
- Maybe
- There is one important factor - the Russian one. Are you ready to generally communicate with people from the Kremlin? People who, let's call a spade a spade, are very cynical about many things, people who often have a bloody trail.
- Absolutely. In the very first approximation, today's Russian elite is the Chekists, bandits, and oligarchs. I can talk to them. I spent six years in prisons, there were interrogations at night for eight hours, and I looked into the eyes of Chekists. So I'll look into the Chekist Putin's eyes and say "no", if necessary, I can.
- One of the most serious problems in Belarus today is corruption. What are you going to do with it? How to combat it?
- We, the Christian Democrats, have an exclusive offer - the so-called Lincoln Law. This is a law of the XIX century from the United States, the analogues which exist in almost all civilized countries. If a person helps the state to establish the fact of theft from the state, they receive 25% of the amount stolen, as if they had found a treasure. Now, if you find a treasure in Belarus, then by law 25% of its value is yours. The same thing with corruption, people helped.
And imagine, in the West people are afraid to steal not because they are good or holy - people are, by and large, the same everywhere. But there the system is such that people are afraid to steal, because they understand that if someone tells about it, they can guarantee themselves a comfortable life for the rest of their earthly years. And they will certainly come to court and do it.
They steal cars, wagons, trains, and so on from us, because they know that in the end the wolf won't eat wolf, and the system of dependent courts will cover any crime. Therefore, today's elites steal, therefore they lie, therefore they frighten people, and are afraid themselves. It is impossible to build a normal state and a normal society on thefts, on lies, on drunkenness.
And this is what Lukashenka led the country to in 26 years: it is considered normal to steal, lie,and frighten. Belarus needs a moral revolution. We must change understanding, legal consciousness. This requires breaking the system that the communists built, and then Lukashenka finished building.
- The main enemy of Belarusians is…
- The main enemy of the Belarusians is, let me quote the original saying, "an overall lassitude and indifference to life."This is such passivity, such a swamp in the soul that whispers to a Belarusian from the depths of centuries: "Let it be so, oh fine, if only there is no war, everything is fine."
Stop! Belarusians should say "stop" to themselves, because the life that is passing by them now is not life, it is survival. My son is growing up, I want him to grow up in the country of which we all dream. I do not want him to be in prison for speaking Belarusian, or protesting against injustice.
- Can I ask you personal questions?
- Sure.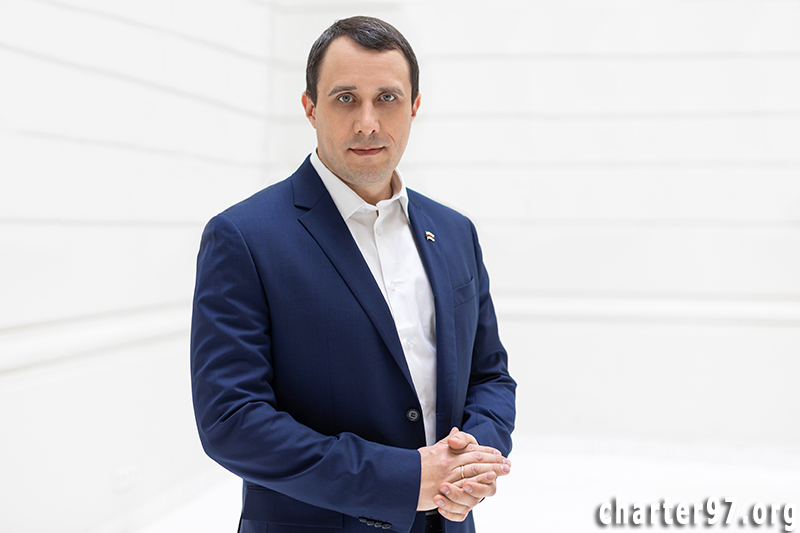 - You have a child, a son, this is your second child. Some tragedy happened with your first son, right?
- Yes, my first son was born and lived for only 8 days. He had the Patau syndrome. This is a rare thing, when chromosomes conjoin in the wrong way. My wife and I suffered a lot, but as faithful people…
- Is it true that this became known during pregnancy, and the doctors offered an abortion?
- We knew, we were offered an abortion, but as we are Christians, we said: "No, this child will be born. Even if he is born with some pathology, this is our child, and we will take care of him." However, he died after 8 days in the intensive care unit. Thank God, we have Frantsishak, he will turn two years old soon. He is very healthy, a joy to his mom and dad.
- How did you meet your wife?
- I met my wife thanks to cinema.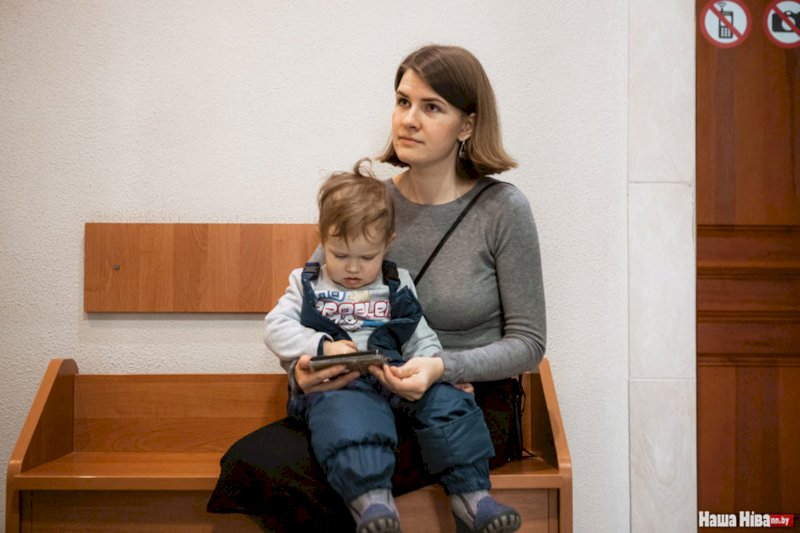 - What?
- It was the movie "Square". My friend Kastus Shytal invited two first-year students from the historical and philological faculties to our house (we rented an apartment with him) to watch the film "Square" about the events of 2006. And there I first saw Volia. She was invited to a meeting of the party youth, then to Renaissance DJ courses, this is such a cultural leadership program that I lead. And here was a spark, love. Five years later, after my another prison term, there was a wedding in the church.
- Well, returning to the question of the first child, you as a believer probably asked yourself the question, why and for what? People often ask this in such situations.
- Why, even I don't know where this child would be better: in today's Belarus or in heaven. Probably in heaven, God took him. As believers, we take death a little differently. For me, the question "for what" is not worth it. I will find out the reason there. It is clear that we were in pain. My wife and I suffered, she cried a lot, but we also understood that this is evidence. That is, we were ready to give our lives to the service of a child who would be born incapacitated, and we would have to look after him all his life. We were ready.
- Pavel, you say in almost all interviews that you are a believer, that you are Orthodox. I would like to ask you, the Belarusian Orthodox Church is part of the Russian Orthodox Church, and, as you know, it is the mouthpiece of the Kremlin. Does it bother you or not?
- Yes, it is very annoying. As a believer, I believe that in Belarus the church should be Belarusian. I am for greater independence, of course, of my church. But we understand that it's not the president, but the church itself that should solve this issue. And here the question is, is the present Belarusian Orthodox Church itself ready to declare autocephaly, or to be independent? Probably, not today.
At the same time, about a third, according to my observations, of the priests in today's BOC are open to other faiths, have a great attitude to the independence of Belarus, and would like a Belarusian man to head the Belarusian church. That is, a person who knows this country, who understands it.
- I have the impression that you are hiding your head in the sand. The fact is, the priest on top, the Primate, in 1981 traveled to Jerusalem in Soviet times to represent the Orthodox Church. It is clear that in Soviet times people just didn't go to such places without shoulder straps.
- This is a difficult topic. I would say that the Orthodox should be ashamed of what has been done and is being done in the Orthodox Church in many ways now, especially in the upper offices. This is so, but at the same time, it is a church. And in a paradoxical way, but in Christianity everything rests on paradoxes, it is through the church that most people come to God or get rid of sin, of evil, to enter eternal life.
- What do you dislike most about your church? I have heard so many interviews about how wonderful everything is: Lord, Jesus, I understand and respect all this, but what do you dislike about the church?
- I like everything about the Lord and Jesus. In the church, specifically in the Orthodox one, I do not like the attitude towards the authorities. In a number of cases, this is servile relations, in a number of cases it is simply Caesarapapism. This is not how it should work. I mean the trade of alcohol in the 90s, and the neglect of an ordinary person to please the authorities. And in a number of cases this is a disregard for the Belarusian language and culture, or simply an aggressive "Russian world". And we are well aware that this should not be in the church.
Hatred towards Belarusians, towards the West, towards heterodoxies cannot be preached in the Belarusian church. Orthodoxy is love. This is a deep relationship with God, which leads to a deep relationship with man. This is not politics, this is not war, this is not a continuation of the "Russian world" in the worst sense of the word. Therefore, of course, I would like to see this Orthodoxy as bright, as evangelically transparent as it was in the 16th-17th centuries in Belarus.
- What feelings do you have towards Lukashenka?
- No hatred. It is regrettable that this person could have become a national leader during 26 years, because he is the first president of the independent Belarus. But he didn't just miss it, he trampled the Belarusians' hopes for their independent national state. That is, these are things that God can forgive, if a person repents, even people can forgive, if something is mended. History will not forgive.
Lukashenka will be remembered as a dictator, as a person who simply threw the "spring Belarus," as Zianon Pazniak said, under his feet in the mud and walked on it. Therefore, of course, this is a great regret, in a number of cases, this is disgust. When he orders to break crosses in Kurapaty, it's even something demonic.
- With all this, he defiantly shows himself as Orthodox.
- Orthodox atheist. He says that he is an Orthodox atheist with a Communist Party membership card in his pocket. And when he says: "We, the Orthodox" - what do you mean, you're an Orthodox atheist. An Orthodox person will not give orders on the Crucifix Week to destroy the crosses on the graves of people whom the Stalinist executioners killed without fault. Why was this done? This is some kind of devilry. Lukashenka did it.
A normal person, a believing person, will not erect monuments to Stalin. How many years have we been fighting to re-name the streets. There are bloody executioners, communists everywhere. Our central streets in cities are called by the names of people who killed also Belarusians, who gave orders for executions. "That's okay, the streets will not be named after Belarusian national heroes, believers, writers, these communists are needed. " Because Lukashenka is spiritually with them, and therefore, in principle, Lukashenka is unacceptable for today's Belarus.
- Is he weak now?
- In terms of support for the people, yes, he is weak. According to our data, he has around 12 percent of support now according to our research. Unfortunately, we do not have an official independent sociology, but there are some studies.
Lukashenka is not supported now. The people are tired of Lukashenka, that is to say the least. Many people hate Lukashenka, and they are more radical than me, more radical than the opposition. These people generally want to deal with him. If Lukashenka falls into their hands, I think he will understand: they will settle accounts with him for everything that has happened in the past 26 years, and this is a lot.
- I would like to read a quote from an interview with Sviatlana Alexievich: "I do not know who could resist Moscow because Lukashenka is resisting. I do not find such strong leaders. This does not mean that I support Lukashenka, but our interests and his interests coincided. It's sad, but it's so."
- I think that Sviatlana Alexievich is mistaken here. Just Lukashenka led us to the edge of the abyss in relations with Russia. Just for the reason that he wanted to be king in Moscow, he signed an agreement and constantly exchanged oil and gas for the Belarusian language. That is, he destroyed the Belarusian language - and received freebie Russian gas. It is his fault that independence is hanging in the air.
It was Lukashenka who destroyed Belarus, it was Lukashenka who persecuted the best people and threw them to jail, it was Lukashenka who planted Russification here. It is Lukashenka who is the main conductor of Moscow, and the fact that they are fighting for a piece there - yes, the intraspecific struggle will be tougher than interspecific. But there are people who are ready to say "no" to Putin, or just sit down and agree on normal relations, good neighborly relations. There are such people, we are ready to sit down and talk from the standpoint of Belarusian independence.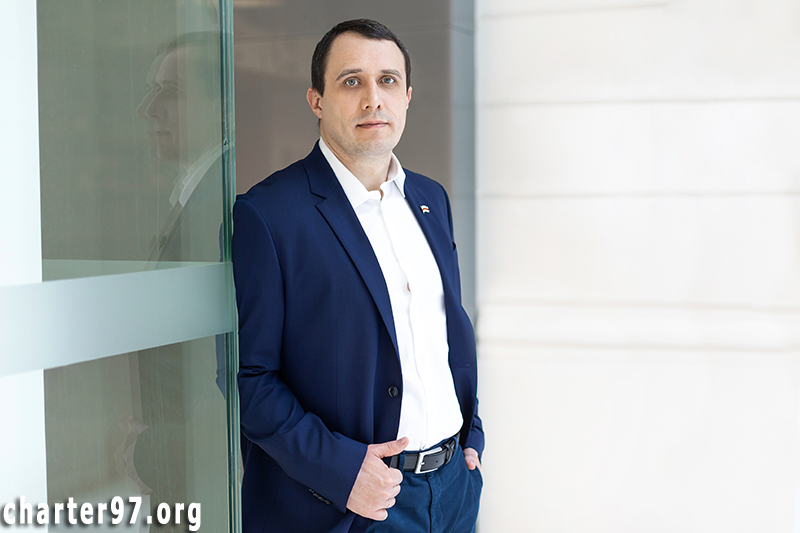 Dear readers! You can subscribe to the Charter'97 channel on Youtube - charter97video. To do this, go to the charter97video page and click the red "Subscribe" button. If you want to receive notifications of new videos on the charter97video channel, then click the "bell".