Sviatlana Tsikhanouskaya Urged To Come To Rally-Concert In Minsk Today
13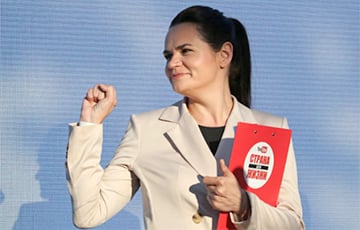 The presidential candidate urged to come to a rally-concert today in Minsk, in the Park of Peoples' Friendship at 18.00.
This morning, the presidential candidates were called to the CEC for an emergency meeting, Radio Svaboda reports.
"All our events will be held as scheduled, nothing will be canceled. Everyone please come to the picket in Minsk at 18.00 today, - presidential candidate Sviatlana Tsikhanouskaya said right after the meeting in the Central Election Commission.
The rally-concert in the Park of Peoples' Friendship on Banhalor Square will begin today at 18.00.
Svetlana Tikhanovskaya will be supported by bands B:N:, Litesound, which performed in 2012 from Belarus at "Eurovision," PyLai, Loudscage and performers Lera Yaskevich, Alexander Kiss, Siarhei Kosmas, and Pavel Kastevich and Artsemis Akhpash, who was a presenter at the ONT, will be the masters of the ceremony.