Minsk Residents Honored Memory Of Viktar Hanchar And Anatol Krasouski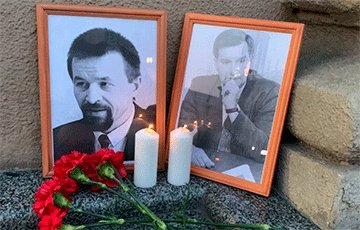 Yesterday was the anniversary of Viktar Hanchar and Anatol Krasouski's disappearance.
Yesterday was the anniversary of the disappearance of the opposition politician Viktar Hanchar and businessman Anatol Krasouski.
On September 16, 1999, they left the bathhouse at 20 Fabrychnaya Street and got into a jeep owned by Krasouski. After that, no one else saw them.
Today, tut.by readers have sent such a graffiti - it is written "We will not forget, we will not forgive" on the wall of the building along 20a Fabrychnaya Street.
Portraits, flowers and candles appeared next to the Kastrychnitskaya metro station.