Ex-Ambassador to Argentina: I Believe in a Better Future for the Belarusian People
4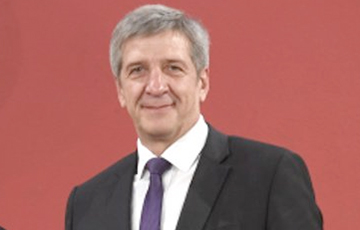 The diplomat resigned on the day of the "inauguration" of the usurper.
Belarusian Ambassador to Argentina and, concurrently, the Republic of Chile, Paraguay, and Peru, Uladzimir Astapenka resigned on the day of Lukashenka's "inauguration." The ambassador told tut.by about this.
- Indeed, on September 23, I submitted an application for dismissal from my post by agreement of the parties in accordance with clause 1 of part two of Article 35 of the Labor Code of the Republic of Belarus. Now I am waiting for the adoption of the relevant decree; until that moment, I formally remain in the service. I believe in a better future for the Belarusian people! - said Uladzimir Astapenka.
When asked what caused the application, Ambassador Astapenka said to pay attention to the date of its submission. Let us remind you that the "secret" inauguration of Aliaksandr Lukashenka took place on September 23, the date of which was not officially announced in advance.
Uladzimir Astapenka is a career diplomat, who began his work as the third secretary of the Ministry of Foreign Affairs of the Byelorussian SSR. He served as Deputy Foreign Minister, worked in a number of embassies. In 2018, he was appointed Ambassador of Belarus to the Argentine Republic, and later - Ambassador to Chile, Paraguay, and Peru concurrently.
The senior adviser of the Belarusian Embassy in Latvia, Andrej Avramenka, also resigned a few days ago. Avramenka announced his resignation from the Ministry of Foreign Affairs on his social networks.
Let us remind you that after the presidential elections, a number of diplomats left the Foreign Ministry because of their public position. The ambassadors of Belarus in Spain, Latvia, and Slovakia lost their posts and / or diplomatic ranks. An employee of the central office, head of the historical and archival department of the Foreign Ministry Viachaslau Kazachenka, who went to a picket against the violence in the country, was fired from the Foreign Ministry under the article; the head of the Department of North America and Western Europe Andrej Bushyla and the first secretary of the European Department of the Foreign Ministry Pavel Sliunkin resigned themselves.