Nuland Goes To Moscow: Lukashenka's Head On Stake
26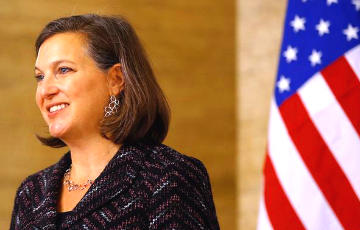 The negotiation topics are focused on two cases.
From 11 to 13 October, talks will be held between the Deputy Head of the US State Department Victoria Nuland and the Russian Foreign Ministry.
Nuland focuses on 2 cases: Ukraine and Belarus, writes the CYNIC Telegram channel.
As for Ukraine: all the insights that relations between the United States and Ukraine are in a very tense state have been fully confirmed. The reason is that Zelenskiy has failed to prove his loyalty in the Burisma case, which makes him viewed as a "controversial partner."
Pandora's papers hit Zelensky colossally. Most of the documents - this is the opening of accounts of the entire environment, but in particular they point to the "first person".
The case of Ukraine is not of particular interest to the United States so far. Ukraine tried to repeat the achievements of the "multi-vector approach", for which it paid a serious price with the loss of Western lobbying.
Nuland recently returned to the Belarusian issue. And it is to this case that the main block of the "CIS foreign policy" will be devoted. The "rollover game" continues, so consensus in the face of a new wave of US sanctions is only possible in a very fragile form.
After the meeting, Nuland will understand the final position of the Russian Federation on the Belarusian issue. In addition, the position of the United States will be clear.
Lukashenka is not in this watershed. And for him it is absolutely scary - his fate is decided without him. His voice and his position are neither subjects nor objects of relations - he is an absolute zero in the geopolitical game.
The collective West has outlined its position quite harshly, so we will not see anything new, but the radicalization or softening of the Russian Federation will talk about whether the Russians will defend the traitor or throw him into a pit with crocodiles.
P.S. "6 months" after Geneva are over - it's time to report to the West.