Harry Pahanyaila: I Would Give the Authorities an "F" for the Situation We Are Seeing With COVID-19
21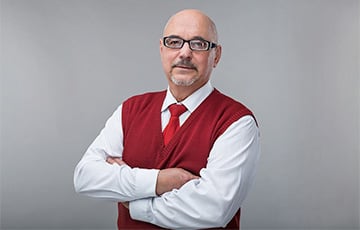 The actions of the regime should be assessed as criminal.
According to doctors, the 4th wave of coronavirus in Belarus resembles the scale of the catastrophe in Bergamo, Italy during the first wave of the pandemic.
The website Charter97.org asked the chairman of the legal commission of the Republic of Poland, the Belarusian Helsinki Committee, Harry Pahanyaila, to assess the situation with COVID-19 in the country and the actions of the authorities during the epidemic.
- What measures do you take to protect yourself during the pandemic?
- My wife and I have been working remotely for the second year, we sit at the dacha and rarely go to Minsk, only if something urgently needs to be done, to buy groceries, and so on. In the summer, we were vaccinated with the Russian vaccine Sputnik. I think that in our situation, this method is the best in order not to catch COVID-19 in transport or in other public places where there are crowds of people.
- How would you assess the government's measures to prevent the spread of COVID-19?
- Only now, with the 4th wave of power, they woke up and are trying to introduce certain restrictions. For example, they introduce a mask regime in public places, particularly in transport, and impose administrative responsibility for violations of the epidemiological regime. And so, in principle, no other measures of an operational nature are taken.
Students are not transferred to online learning. This could be done in the senior grades of schools, if there is a serious risk of infection, as well as in several other places to introduce restrictive measures for visiting, for example, theaters, cinemas, sports facilities, where mass spectators are present, training takes place, spectators come to watch competitions. For example, in neighboring countries, where the situation with COVID-19 is really severe, lockdowns and other restrictions are introduced, and their implementation is tightly controlled. For these purposes, the police are involved, and all the executive organs of the government are under pressure.
- Recently, documents from the Center for Hygiene and Epidemiology were published. Studying these documents, it became known that, on October 7, only in Minsk, 3086 were infected. According to official data, on that day, 1983 people were infected in the country. Do you think a similar situation with Minsk is happening in other cities?
- Of course, the situation with statistical data is an obvious disaster, a deception, and such behavior of the authorities should be assessed as criminal. The inconsistency with reality, which is observed primarily by doctors of polyclinics and in-patient treatment facilities, where seriously ill COVID patients are admitted, is unacceptable. Many are on hospital beds in wards, undergoing treatment in hospitals or at home, and truthful information should be available to all.
Now my daughter, who, thank God, was vaccinated, caught COVID-19. The family is under strict quarantine, which means that schoolchildren do not go to school. We also continue to stay at the dacha, because the daughter came to our dacha with her children. So we are forced to be in strict isolation for safety reasons. But this is our voluntary confinement. No one from the medical staff, the territorial polyclinic, or the institution that detected COVID-19 in our daughter, contacted us about how we were feeling and that we needed to be on self-isolation.
Generally speaking, our authorities, from the first actual "head of state" to the local health services, have a spitfire attitude towards the population. They are not aimed at a tough fight primarily with prevention due to the situation with COVID-19 and the need to strengthen work on vaccination. My neighbors, a husband and a wife, were seriously ill, hospitalized, and other neighbors who came in contact with them were not even warned that they might have to undergo some kind of tests for COVID-19 and get vaccinated and self-isolate voluntarily and due to the special danger.
I would give our services and authorities an "F" for the situation we see today with COVID-19. Covid dissidence continues. Not only are people leaving by the thousands for political reasons, but they are also dying by the thousands from diseases, particularly COVID-19. In general, the medical industry, and especially its managers, are not prepared for this situation.
- Some experts note that a real collapse may occur in the country by December due to the situation with COVID-19. They point to overcrowding in hospitals, as well as a shortage of medical personnel. What do you think about this?
- I am not an expert, I can only assess the situation from the position of an ordinary person that there really is only one life. Responsibility for the health of the nation lies primarily with those in power. If the situation is serious in the world and the country, then it is necessary with all the strengths and opportunities to spend funds not on the security forces, not on the army, not on fighting the West but to concentrate efforts and material resources on the fight against COVID-19. That is, on the purchase of quality inoculation materials, on the expansion of hospital facilities for the treatment of patients, on the purchase of medical equipment, on the production of the same oxygen.
The articles write that the Asipovichy enterprise and some other enterprises are forced to give an oxygen cylinder per day to hospitals because there is not enough oxygen. It should not be such voluntary donations but purposeful work of the authorities to ensure that there is enough equipment and oxygen for hospitals. Otherwise, the mortality rate will indeed grow threateningly.
This should be of concern primarily to the executive authorities, from local councils to the Ministry of Health and the Council of Ministers. I'm not talking about our know-it-all leader, his administration, and such a body as the "council of the republic," headed by a famous madam. They have simply turned out to be the backbenchers in this situation, they absolutely do not care what happens to our people, our citizens in this situation.
These people are making absolutely useless laws to tighten the screws instead of dealing with the real threat, which must be dealt with and not looked at through their fingers and hoped for a turnaround. This attitude toward the people is what caused the first wave of outrage in 2020, which the authorities did not expect and were not prepared for.
There are not enough medical workers, they are under tough pressure. Not only does the situation with COVID-19 itself cause tension in the work of the medical staff, but also the persecution of medical workers for their civic and professional stance. Many of the medical workers were forced to leave the country, there is only continuous talk about material and monetary compensation for medical workers but no real action.
People see how these specialists are treated, so many of them are forced to leave the profession. There is also a lack of junior staff who provide care for patients, medical specialists. It is in such a tense situation that they work for wear and tear, without feeling the appropriate care and return from the state.
Now, at least they began to talk about the value of medical personnel and the need for encouragement, but these are only words, the persecution continues, they are fired for the civil position. At some places, draconian measures on overtime are being introduced, and they are not always paid appropriately and on time. Doctors work just heroically, but, in fact, they work to the bone. Such a situation cannot last long. Of course, in this situation, the tension should be reduced.
- How dangerous is it today to work, knowing that safety measures are not followed and the vaccination company has actually failed?
- This is a difficult question. If we talk about why people do not want to be vaccinated, I can assume that there is no counter-propaganda. I see that a lot of information is circulating about the alleged dangers of vaccinations, counter-propaganda does not work in this regard. There is no sufficiently thought-out program of persuasion, and somewhere there is no coercion of a certain group of workers who are associated, for example, with the service sector, the same doctors, teachers, restaurateurs, that they should be vaccinated in the first place.
Then it is necessary to gradually move to the appropriate groups of citizens who are most at risk of the disease. After all, many are registered: diabetics, heart disease, lungs, and others. These categories should almost be forced to be vaccinated, called to clinics, went to, so to speak, door-to-door, and the elderly who are at risk must be mandatorily vaccinated.
Now the clinics are full, there is a wave of infections there, too. The new wave of covid is superimposed on a timely wave of the flu epidemic. I was supposed to go to the daycare center of my local clinic for preventive treatment for my chronic ailments, but I do not want to risk it now under these conditions, so I will skip six months. But again, this is to the detriment of my health for those diseases that I already have, because I am afraid of catching COVID-19. I'm really afraid to go out without an important reason. I haven't been to the theater or anywhere else in two years. In the past, I tried to go to premieres and maintained a certain status as a fan of some events of that nature, but now I have to limit myself. And I find this kind of behavior normal and necessary nowadays.
It's good that I consciously made such decisions for myself and my family, but many have to be convinced in this, and somewhere prohibitive measures must be introduced so as not to expose people to the danger of contracting a serious illness. Indeed, in the West, really tough measures have been introduced to prevent people from, let's say, group events - theaters, restaurants, conferences, and so on.
We have an extremely difficult situation. It was escalated by the irresponsible attitude of the authorities, they still do not want to admit their mistakes. Hundreds of people are dying, and they create the illusion of relative well-being in our country with the help of incorrect information about the sick, mortality statistics, that relative well-being... I have an extremely negative attitude towards the methods and "effectiveness" of our services, government, and local authorities.
- What security measures would you recommend to Belarusians to protect themselves and their loved ones?
- First of all, the need for vaccination has already been proven and shown by practice. Get vaccinated at least once a year, because the virus mutates, so updated vaccinations are needed. It is necessary to strictly adhere to the mask regime while we have an epidemiological situation. Yes, it is not easy, tough measures of a restrictive nature are needed, but they need to go and convince citizens of their necessity, firmly and purposefully, if such decisions are made.
I am not a sanitary doctor, but everything that has a chance for result and effectiveness must be done, everything must be used. The most important thing today is to strengthen the medical staff, to expand training of doctors, so that more people go into the profession, to build stationary medical facilities, to increase bed capacity.
Now, under COVID-19, they give places in hospitals, but planned operations are temporarily canceled or not carried out at all. All this rolls over and increases the incidence and severity of chronic and unexpected diseases that need to be treated on time and, if necessary, operated on. If everything is postponed, then this situation in itself can also lead to deaths.
Coronavirus blocks the possibilities for normal and planned inpatient treatment of other patients. There is a certain danger in this too. Therefore, many today, in anticipation, expose themselves to an additional risk of dying from the disease from which they suffer. It is a prompt and timely intervention that could help them, but, alas, hospitals do not agree to this, and doctors who observe patients cannot allow solving the problem of specific people. There is nowhere to put people, the doctors' hands are occupied by other patients, in particular, covid ones. Many doctors, even those who don't specialize, are forced to provide care for covid patients.
We need specialists to work. They must propose to government officials the necessary measures that are needed today. In turn, managers must pursue an appropriate policy, tune the government to the need to not only plug the holes but demonstrate a professional attitude to the problem, so that everything is planned, supported by material, personnel, organizational, and resources. Including the need to purchase appropriate vaccines, medicines, technical devices, devices for effective treatment, and much more.
In this situation, it is difficult to imagine what our government is capable of. So far, I do not see anything good in what is happening in the country, in particular, in the fight against COVID-19. As one person said: "Sometimes there is no time for the laws." So today, sometimes there is no time for health care, although the situation requires precisely a reassessment of all the state's capabilities to fight the coronavirus and not to move your lips and wave your hands on various urgent problems that cannot be delayed.