Failed Vaccination and Two More Causes of the Coronavirus Disaster in Belarus
4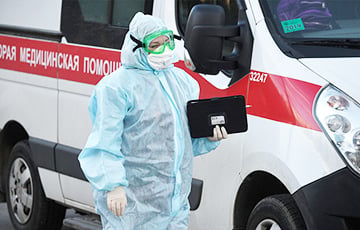 Doctors of the Homel region spoke about the situation in the area.
Doctors of the Homel region unofficially talk about the critical situation in hospitals, people in social networks more and more often write about relatives and friends who have died from coronavirus.
According to Flagshtok, only those who need oxygen are accepted for inpatient treatment because of the enormous workload.
And more recently, the Ministry of Health calmly talked about the projected rise in the incidence in the fall and convinced people that everything was under control. But now it is obvious that not everything is under control. And the authorities failed to use whatever was under control intelligently to minimize the consequences of the fourth wave of COVID-19.
This is primarily about late vaccination. In early September, Flagshtok said that the achievement of collective immunity for residents of the Homel region was under threat of failure. Unfortunately, this is what happened. Even now, when the fourth wave is already in full swing and there are not enough places in hospitals, it's still a long way away from achieving collective immunity.
For example, in the Svetlahorsk region, as of October 16, only slightly more than 20% of the population was vaccinated from the coronavirus. This is too little. The deputy chief sanitary doctor of the district, quoted by the newspaper of the regional executive committee, recalled that the goal of vaccination is the formation of collective immunity. To do this, it is necessary to vaccinate at least 60% of the population. However, this figure is only a vital minimum, which will only allow to slow down the rate of morbidity.
"Only having 90-95% vaccinated, we will be able to say that we have defeated this infection," the doctor confirmed.
In the Homel region, the first component of the vaccine was received by about 32% of the population, the newspaper of the regional executive committee writes. How many people completed the full course is not specified.
Those who follow the epidemiological situation in the world are aware that the situation in the EU countries is completely different. For example, in neighboring Poland with a population of 40 million, the average daily number of infections over the past week is about 2 thousand people. The same number as in Belarus with a population of 10 million - moreover, according to official statistics, which few people believe.
And another neighbor, Russia, is going through a catastrophic situation at this time. The rise in the incidence there began in the summer due to the Delta strain. Despite this, the current Belarusian authorities not only did not restrict passenger traffic with Russia but, on the contrary, sought to increase flights and routes.
And, of course, the belated mask regime. If it is really observed at least now, it would probably save many lives. And if it had been introduced in time, the actual statistics of illnesses and deaths would have been much lower.