Spiegel: Ultimatum Delivered To Iraqis, Syrians In Bruzgi Camp
36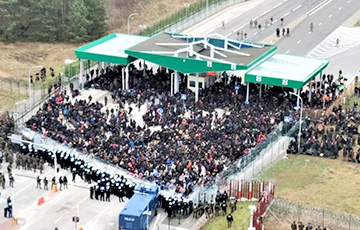 The Belarusian authorities demand a new assault on the Polish border from migrants.
The German magazine Spiegel spoke with Iraqis and Syrians who are in the Bruzgi logistics center, as well as with Kurds who have returned to their homeland.
Spiegel actually confirms the information of Novaya Gazeta: according to the information of the German newspaper, the Belarusian side is offering the Iraqis and Syrians in Bruzgi a choice - either a new attempt to cross the border, or deportation to their homeland.
The interlocutors of the magazine claim that the camp in Bruzgi may be closed in the coming days, and talk about their conversations with the Belarusian security officials, who explain the pressure on migrants - in the spirit of Belarusian state propaganda - by the lack of funding for the camp from the EU.
The Kurd who returned to Erbil notes that only a part of his fellow citizens left Belarus voluntarily. Last Friday, a round-up of Kurds took place: they were detained in rented apartments or right on the streets, taken to the Minsk National Airport, and then sent home.