Wife Of Political Prisoner Ales Pushkin Says There Has Been No Contact With Him For A Month Now
1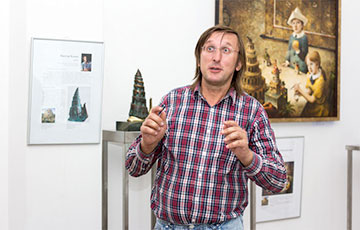 Supposedly, he is being held in the hospital.
Yanina Pushkina, wife of political prisoner Ales Pushkin, told Narodnaya Volia in an interview that she receives no letters from her husband and has no information about him now.
In November, Ales Pushkin was sent from the pre-trial detention center to a psychiatric hospital in Navinki allegedly for examination. He has been kept in the hospital for about a month. Pushkin's lawyer is under a non-disclosure agreement.
On March 30, Ales Pushkin was detained in the village of Zhylichy, Kirau district, where he was working on the restoration of Bulghaks' Palace. The artist became a defendant in a criminal case under part 3 of article 130 of the Criminal Code (incitement of hatred). The reason for that was the portrait of anti-Soviet figure, painted by Pushkin and exhibited in a private center in Hrodna. Later investigators got claims also to a cycle of works of the artist, which he created more than 20 years ago.