Cockroach Put Into Russian Aurus From German Maybach: Prices Revealed
28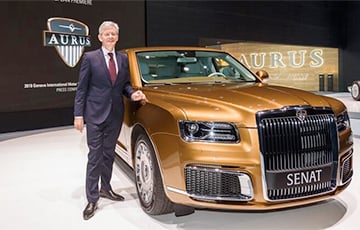 How much will it cost the budget to update the dictator's fleet?
Recently, the Telegram channel of the editor-in-chief of the Russian radio station "Echo of Moscow" Aleksey Venediktov published the information that Lukashenka is planning to renew his vehicle fleet. Venediktov wrote that Lukashenka decided to replace his Maybach with a Russian Aurus.
"Lukashenka gave instructions to replace his presidential vehicle fleet, abandon the German Maybach and buy Aurus," wrote Venediktov. -With a loan. The loan will be provided by a Russian bank." The editor-in-chief did not indicate the source of information.
Zerkalo.io journalists contacted Aurus to verify this information. However, the company said it did not disclose information about current or potential customers of the brand.
Aurus is a Russian brand of luxury cars developed within the framework of the Cortege project. The development of the project, also known as "Putin's Cortege", has been going on since 2013 as a platform for creating cars for "transporting and escorting top officials of the state, as well as other persons subject to state protection." These cars are in the fleet of top officials of Russia - for example, Vladimir Putin arrived in the Aurus to the Normandy Four summit in Paris in 2019.
The Aurus family of vehicles includes a convertible, sedan, limousine and minivan. In the future, it should be replenished with a crossover and a motorcycle. In July this year, the brand launched mass production of its cars in Tatarstan. As for the cost, it is comparable to Western competitors, and even higher. So, the official price of the Aurus Senat S600 sedan in the basic configuration in 2019 was 18 million Russian rubles (about 275 thousand dollars). For comparison, the base Mercedes-Maybach S 560 4MATIC at the same time cost about 210 thousand dollars, and the price of the Bentley Flying Spur sedan with a 507-horsepower V8 engine is 200 thousand dollars.